Chinese Defense Ministry: Opposition to THAAD 'Will Definitely Not Stay On Words Only'
Chinese rhetoric remains hotly in opposition to THAAD, but what else will Beijing do?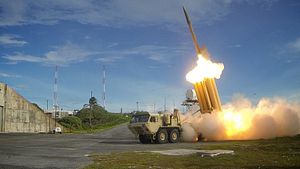 The Chinese People's Liberation Army's opposition to the United States and South Korea's decision to deploy a Terminal High Altitude Area Defense (THAAD) missile defense system in South Korea will extend beyond just words, according to a spokesperson for the Chinese Ministry of Defense.
Senior Colonel Wu Qian, deputy director of the Information Office of  China's Ministry of National Defense (MND) and spokesperson for the MND, said at a regular press conference on Thursday that "the Chinese military's opposition to the deployment of the THAAD system will definitely not stay on words only."
As I've explained before, China primarily opposes the THAAD battery being deployed in South Korea due to the associated X-band AN/TPY-2 radar. Though Beijing had rejected U.S. offers for technical talks regarding the system, it has not clarified what specifically about the radar damages Chinese national security interests.
China has unofficially retaliated against South Korean companies for the deployment of THAAD, causing economic damage. Earlier this month, South Korea filed a complaint at the World Trade Organization that China was unfairly retaliating against it and that Beijing may have violated existing bilateral trade arrangements.
Lotte, the South Korean conglomerate that ceded part of its land on a golf course in Gyeongsanbuk-do for the placement of the battery, has seen multiple stores shut down by Chinese authorities.
The United States and South Korea agreed to deploy the missile defense system last year amid an intensifying ballistic missile threat from North Korea, which carried out 24 ballistic missile tests in 2016 and has carried out five missile launches to date in 2017.
Wu's remarks did not expand on what kind of specific retaliation the Chinese military may pursue over THAAD, but his comments add to the chorus of opposition coming out of China. It's unlikely, however, that the People's Liberation Army would take any sort of kinetic action against South Korea over the deployment.
Curiously, later in the same press conference, when asked about a potential purchase and deployment of THAAD in Japan — something that certain Liberal Democratic Party lawmakers are recommending strongly to Prime Minister Shinzo Abe's government — Wu had the following to say: "China is opposed to any country's act of using the DPRK's missile issue as an excuse to compromise other countries' security and regional stability."
Given that Beijing has predicated its opposition to THAAD in South Korea around the AN/TPY-2, its opposition to a Japanese THAAD deployment would likely have to do with the missile interceptors itself. Japan already has two U.S. AN/TPY-2 radars in place.