Maiden Flight of China-Built World's Largest Amphibious Aircraft Set for May
China's new aircraft will be capable of quickly moving cargo and personnel to contested islands in the South China Sea.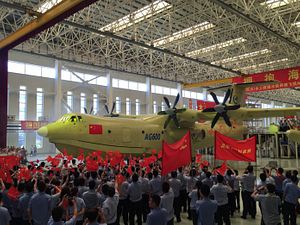 China's Jiaolong (Water Dragon) AG600 seaplane, purportedly the world's largest amphibious aircraft, will conduct its maiden flight on land in May followed by a flight on water in the second half of 2017, Xinhua news agency reported this month, citing the plane's manufacturer, state-owned Aviation Industry Corporation of China (AVIC).
The Boeing 737-sized AG600 aircraft is 37 meters long and has wingspan of 38.8 meters. Powered by four turboprop WJ-6 engines, the seaplane's maximum take-off weight is 53.5 tons, its maximum cruising speed 500 kilometers per hour, and the maximum operational range without refueling 4,500 kilometers.
It purportedly can collect 12 tons of water in 20 seconds, and can transport a total of 370 tons of water in a single run. However, as I noted elsewhere, the aircraft can also be used for military purposes including long-range patrols, anti-submarine warfare tasks, and mine-laying missions.
Furthermore, the aircraft can be used to transport supplies and military personnel to Chinese controlled islands in the South China Sea (See: "Will this Plane Let China Control the South China Sea?").  According to a U.S. think tank, China is about to finish construction of a number of air, radar, and defense facilities on the Spratly Islands.
"Assuming, as claimed by the plane's developers, that the AG600 only requires a water depth of 2.5 meters for landing and take-off, it would be an ideal aircraft to supply some of China's artificial features in the Spratly Islands given that they are surrounded by shallow waters," I noted elsewhere.
The AG600 was built with the support of 70 aircraft component manufacturers as well as around 150 research institutes across China. It was first rolled off the production line at an AVIC plant in the southern city of Zhuhai in Guangdong province on July 23, 2016. "The AG600 is like a ship that can fly, with advanced gas water dynamic engineering and underwater corrosion resistance technology," said Huang Lingcai, the chief designer of the AG600, at that time.
China has ordered 17 AG600 aircraft and is mulling purchasing an additional 53 in the coming years. AVIC also hopes for export orders. "We are confident in its market prospects because the aircraft's overall specifications, such as the maximum take-off weight and flight range, are better than other amphibious planes in the world," Qu Jingwen, AVIC's general manager, said in July 2015.
Malaysia and New Zealand have allegedly expressed interest in the new aircraft, next to a number of other Asian countries. However, it is unclear whether there will be a large civilian demand for an aircraft of this size. China is reportedly also interested in building a tourist variant of the aircraft to shuffle Chinese tourists from the mainland back and forth as part of Beijing's plan to transform some of the Chinese-held islands into tourist destinations.