North Korean Ambassador Expelled From Malaysia
Fallout continues for Malaysia-North Korea ties after Kim Jong-nam's assassination.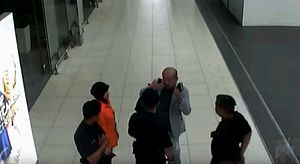 The Malaysian government announced on Saturday that it would expel North Korea's ambassador from the country amid an intensifying diplomatic row over the assassination of North Korean leader Kim Jong-un's half brother at Kuala Lumpur International Airport in February.
Malaysian Foreign Minister Anifah Aman said on Saturday that Kang Chol, North Korea's top diplomat in Kuala Lumpur, had been given a 48 hour window to leave Malaysia. Kang was reportedly expelled after refusing to respond to a summon by the Malaysian government on Saturday.
As part of its investigation into the killing of Kim Jong-nam, North Korean leader Kim Jong-un's half brother who had been living in exile in Macau, Malaysian authorities have scrutinized several North Korean suspects. Malaysia additionally announced in late-February that North Korea had used the VX nerve agent — considered a weapon of mass destruction by the United Nations — to kill Kim Jong-nam.
The two women who are suspected of delivering the nerve agent to Kim Jong-nam were formally charged with murder last week.
Ri Tong-il, the former North Korean deputy ambassador to the United Nations, told reporters recently that, in North Korea's view, the available evidence gave "a strong indication that the cause of [Kim Jong-nam's] death is a heart attack."
Kang's expulsion from Malaysia comes after harsh North Korean criticism of the Malaysian investigation. Ri Jong-chol, a North Korean citizen and a suspect in the assassination, accused Malaysia of conspiring against North Korea. North Korea's KCNA news agency has also criticized Malaysia's investigation.
"If you look at Malaysian police's investigation from crime investigation perspective and legal perspective, everything is full of weak points and contradictions," one KCNA article noted, citing a spokesman for the country's Korean Jurists Committee.
Last week, Malaysia also requested that Interpol put out an alert to locate four missing North Korean suspects in the case. Also in the aftermath of the assassination, Malaysia scrapped a visa-free travel arrangement for North Korean citizens on the grounds of national security concerns.