Pakistan's New Main Battle Tank? Turkey's Altay Tank Enters Mass Production
Turkey's new third generation+ main battle tank has passed all acceptance tests, a Turkish defense contractor claims.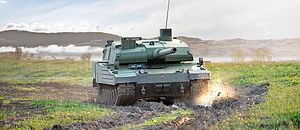 Turkey's first indigenously-designed, third generation+ main battle tank (MBT), designated Altay, has passed all acceptance tests and is now ready for serial production, Turkish military vehicles manufacturer Otokar, a branch of the Koç Group, the country's top industrial conglomerate, claims in a March statement.
"Altay … has now completed the tough qualification testing stage, including mobility and endurance testing on rough terrain and climatic conditions, firing tests with various scenarios and survivability testing," the Otokar press release stated as quoted by Defense News.
Despite the successful acceptance tests, Otokar has so far not scored a serial production contract. Indeed, two other tank makers are reportedly competing for a multi-billion dollar contract to produce up to 1,000 tanks for the Turkish Army.
The Altay project hit a snag earlier in the year after Turkish engine maker Tümosan cancelled an agreement with the Austrian firm, AVL List, for technical support in designing an indigenous engine for the MBT. "Due to the adoption by the Austrian government [of measures] to insist on export licenses that include conditions that interfere in Turkey's domestic politics … the contract as recorded and revenue guarantee given by the company will be cancelled," Tümosan announced in a January 2017 statement, IHS Jane's Defense Weekly reported.
It is unclear whether Tümosan has already selected an alternative to AVL List (some reports indicate that Turkey might be opting for diesel engines from Ukraine) and in what way the cancellation of the Austrian-Turkish engine deal will impact the Altay MBTs future production schedule. Much will also depend on whether Turkey's defense procurement agency, the Undersecretariat for Defense Industries, will award Otokar a contract for serial production of the tank.
One country that is closely following the development of the Altay is Pakistan, which allegedly has first expressed interest in acquiring the tank in January 2016. It is not hard to see why the Pakistan Army would be interested in acquiring Turkey's new MBT. As I explained previously, the Altay–at least on paper–is a highly advanced and sophisticated armored weapons platform (See: "Will Pakistan Buy Turkey's New Advanced Main Battle Tank?"):
Otokar entered into a system development deal with South Korean tank maker, Hyundai Rotem, whose K2 Black Panther tank project serves as the basis for the development of the Altay. Both tanks share the same base design including the chassis, although the Altay is purportedly slightly longer, equipped with heavier armor, and, in comparison to the K2 MBT also sports a modified turret with composite armor.

Both tanks are also armed with a 120-millimeter smoothbore gun, although the K2 Black Panther MBT is equipped with an automatic loader, whereas the gun on the Altay has to be loaded manually. Furthermore, the Altay MBT has a laser guided missile firing capability and is additionally armed with 7.62 millimeter coaxial machine gun and a pintle-mounted 12.7 millimeter machine gun up top.

The Altay can accommodate a crew of four and with its German-made 1,500 horsepower engine can reach a maximum speed of up to 70 kilometers per hour (43 mph). 
Serdar Gorguc, Otokar's general manager, emphasized the tanks export potential this week: "In addition to producing 250 units of [the] Altay, Otokar made an annual capacity plan taking into consideration the export potential, mine clearance, and various complementary vehicle requirements such as rescue and fortification tank. In this way, it aims to have a flexible production program that can meet all demands of [Turkey] or other friendly allied countries."
However, the Altay might not be as easy of a sell as I noted last year:
Reports that Pakistan is interested in the Altay have to take into account that Turkey's new MBT will be an expensive acquisition for the Pakistan Army since the Altay is based on Western tank designs and will be a NATO-standard MBT.

Pakistan has traditionally relied on cheaper models such as the al-Khalid and al-Zarrar MBTs (both derivatives of Chinese-made MBTs) given that the Pakistan Army's armor doctrine favors mass over class in order to partially offset the Indian Army's numerical superiority.

It is thus unlikely that the Altay will become the new mainstay of Pakistan's armor force. If acquired, it will likely be only to supplement a cheaper armored vehicle procured under the so-called "Haider" program.
The Pakistan Army is in the middle of upgrading its tank force. Among other things, Ukraine and Pakistan have recently started implementing a bilateral agreement for the upgrade of the Pakistan Army's T-80UD Main Battle Tank (MBT). The Pakistan Army intends to procure hundreds of new MBTs in the coming years.