Springtime Is Counterterrorism Training Time in Tajikistan
On Monday, both Russia and the United States began separate military training drills with Tajik forces.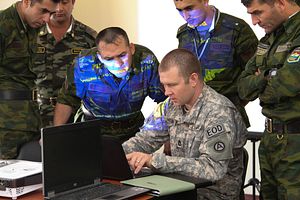 Springtime in Central Asia is a lovely time to organize counterterrorism drills and training exercises — at least that's what Russia, the United States, and Tajikistan seem to all have been thinking.
On Monday, both the United States and Russia began exercises with Tajik forces; separate drills, of course.
About 2,000 Russian military personnel began counterterrorism drills with about 50,000 Tajik troops. Russia, which stations about 7,000 troops in Tajikistan — its largest force based in a foreign country — conducts such trainings on a routine basis. In March 2016, Russia and Tajikistan conducted a large-scale counterterrorism drill with the same estimated forces involved. The 2016 exercises, according to Russian officials at the time, were the first time that Russia brought forces from outside Tajikistan to participate, including aircraft usually stationed at the Kant air base in Kyrgyzstan.
This year's exercises are taking place at several training grounds and will last until March 30. Sputnik (with an over-the-top headline, of course) reported that the exercises were being held in the country's Khatlon region, which borders the Afghan provinces of Balkh, Kunduz, Takhar, and Badakhshan. According to Asia-Plus, Faridoun Mahmadalizoda, a spokesman for the Ministry of Defense, said that more than 40,000 reservists from Khatlon, in addition to reservists from 25 other cities and districts, plus local police and civilian support, would take part in the drills at the Harbmaidon, Momirak, Fakhrobod, Jairali, Halqayor, Homiyon, and Lohour training grounds.
The main Russian force resides at a base outside Dushanbe, but there are facilities in Qurgonteppa in Khatlon province as well. Russia did have a force stationed at Kulob, but withdrew it to Dushanbe in late 2015. In 2016, despite rising anxiety about the Tajik-Afghan border, Russia nixed plans to increase its footprint in Tajikistan. Russia's basing agreements with Tajikistan extends, at present, to 2042.
While 50,000 or so Tajiks training with Russians, about 100 are being trained by 150 Americans. U.S. Central Command, which is coordinating the exercise, said in a press release on March 20 that from March 27 to April 7, "Approximately 150 Americans and 100 Tajik personnel will participate in the exercise." The same press release was also posted by the U.S. Embassy in Dushanbe.
The training is described as "a crisis response exercise consisting of simulated scenarios to facilitate a coordinated partner response to transnational terrorism." The location of the training is not mentioned beyond a cryptic catchall: "military training areas throughout Tajikistan" and "other locations approved by the Government of Tajikistan."
One part of the release caught my attention, if only because it exposes just how opaque and militarized American foreign policy toward the region has become:
As President Trump wrote in his letter to President Rahmon, President Trump's administration hopes to "advance the common goals of regional security and stability."
The comment is fairly boilerplate security cooperation jargon, but there is little else to judge the trajectory of U.S. Central Asia policy by. CENTCOM's recent annual posture statement offers a similarly narrow view of U.S. policy. In Tajikistan's case, the focus remains the Afghan border but the posture statement seemed to make special note of Russia's weighty presence, specifically mentioning the 201st Military Base. This is what's to be expected from a military view of the region, but we've had little more than silence from the U.S. State Department to help flesh out a full view of American policy with regard to Central Asia.
I am curious what else made it into Trump's letter to Rahmon; though I doubt mention was made of the state's troubling human rights record, restrictive political atmosphere, or corruption problems — and how these may feed the very same threat all the training is aimed at preparing for.
As for the awkward coincidence of the United States and Russia hosting concurrent trainings with the Tajiks, it seems a coincidence indeed. And if numbers are an indication of interest in the region, Russia obviously has the upper hand.