Why Is Russia Cutting Troops in Tajikistan?
Last year Russia said it was going to increase its presence in Tajikistan, and now it's not.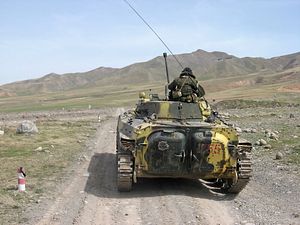 Tajikistan's 1,344 km-long border with Afghanistan has been a noticeable source of worry for both the region and Russia. Over the past year, Russia has helped parlay that worry into action of a sort. The Collective Security Treaty Organization (CSTO) has held several exercises aimed at facing off a veritable invasion from the south. Part of that flurry of worry was the announcement last April that Russia would grow it presence in Tajikistan from 7,000 to 9,000 troops by 2020.
Not so fast, it seems. According to Reuters, on Thursday, a Russian defense ministry spokesman said that Russia would in fact be reducing its troop numbers in Tajikistan as it reorganized its troops there from a division into a brigade. By phone, he told Reuters, "In plain language, its headcount will decline slightly, but its mobility and ability to react quickly to any situations will improve."
Russia's detachment in Tajikistan remain its largest foreign-based force. The troops, collectively referred to as the 201st Motorized Rifle Division, are stationed in two locations in the country: Dushanbe and Qurgonteppa. Until December, a regiment was stationed in Kulob but according to Reuters it was withdrawn to Dushanbe.
The Reuters story came a few days after Asia-Plus, an independent Tajik news source, ran a story noting that TASS, the Russian news agency, had reported that Russia's Central Military District said it was reorganizing its base in Tajikistan, leading to a numerical reduction but a mobility increase.
The motivation behind the reversal is unknown. "The move could point to tensions between Moscow and Dushanbe," writes Reuters, but it's perhaps simpler to point to economics and local tensions. Russia's economy, battered by sanctions and low oil prices, contracted an estimated 3.8 in 2015, according to the World Bank. In Central Asia this has meant that Russia has been unable to fulfill funding promises. For example, Kyrgyzstan this month revoked an agreement with Russia, freeing Moscow of obligations to fund several hydropower projects and freeing Bishkek to find funders who can pay up. Reorganizing its military presence in Tajikistan may be nothing more than a cost-saving measure.
In addition, Russia's soldiers have not always been the best ambassadors in Tajikistan. Last summer, a group of drunken, disrobed Russian soldiers got into a brawl with local Tajiks in Kulob. Other interactions with locals have been decidedly more serious: a Russian soldier accused of murdering a 22-year-old Tajik woman was recently ruled sane by a Russian court and is expected to be sent back to Dushanbe for trial. He'll likely end up in the same military court, in Dushanbe but under Russian jurisdiction, that convicted two men of a grizzly 2014 murder of a cab driver
Russia, for its part, seems intent on keeping up at least the appearance of activity and Tajikistan seems settled on continuing to blow the warning siren about the Afghan border. A spokesman for Tajikistan's State Committee for National Security (SCNS) told TASS this week that per Tajik intelligence "there are at least 5,000 gunmen" along the Tajik border:
The SCNS officer noted that Dushanbe neither "underestimated nor overestimated these groups' danger" having sufficient forces to rebuff the attacks and also "having strategic military allies in the Collective Security Treaty Organization (CSTO), primarily Russia."

"Russia's technically well-equipped 201st military base is located in Tajikistan, which is battle-ready, as evidenced by the results of the participation of its units in the joint large-scale exercises of the CSTO Collective Rapid Reaction Force along the Tajik-Afghan border last May," he said.
Tajikistan and Russia expect to conduct another joint military exercise next month. Anatoly Antonov, the Russian deputy defense minister, told the Tajik Defense Minister, Sherali Mirzo, this week, "For us it is important to understand what is going on there, what you are doing, and, of course, to render maximum assistance to the armed forces of Tajikistan by supplying arms, military equipment and providing everything necessary to boost their combat readiness."
Update: Another possible contributing factor to Russia's troop cut in Tajikistan is perhaps its broader military shifts elsewhere. Russian generals said in late January that they'd be forming four new divisions in response to NATO activities. RFE/RL reported that the new divisions would be assembles on the basis of existing brigades. It's not known whether the Tajik shuffle has anything to do with the new divisions facing NATO, but it's not an unreasonable assumption.