Where Is India on the One China Policy?
Relations between New Delhi and Taipei have been growing closer.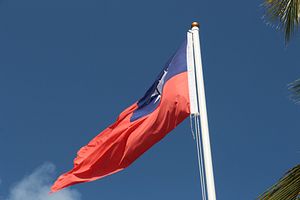 On February 13, India hosted a three-member, all-female delegation of parliamentarians from Taiwan. The visit was free of any major announcements or headlines. Nonetheless, it carried an abundance of geopolitical context at a time Beijing's "One China Policy" (OCP) has attracted greater scrutiny in both Washington and Delhi.
Last December, President-elect Donald Trump dared to challenge the OCP by accepting a phone call from Taiwan President Tsai Ing-wen. I penned an article for Foreign Policy shortly thereafter to highlight how India has been rebuffing China on the OCP for over six years. When Beijing denied a visa to an Indian military commander based in Pakistan-claimed Kashmir in 2010, Delhi temporarily suspended military ties and demanded China recognize a "One India Policy" policy—acknowledging Indian sovereignty over Kashmir and Arunachal Pradesh—if it expected Delhi to continue honoring the OCP.
Beijing relented on the visa question, but not on Kashmir and Arunachal. Delhi, in turn, restored military ties but stood firm on the OCP. To date, Delhi's refusal to pledge respect for the OCP in joint statements has generated no discernible backlash. Indeed, Beijing's official response to the recent Taiwan delegation—lodging a "solemn representation" with Delhi—was decidedly muted.
China's nationalist Global Times was expectedly less circumspect, warning India was "playing with fire" by using China's "Achilles' heel" as a "bargaining chip." "Those who want to use the Taiwan question to contain [China] will have to suffer losses," it added.
However, at the first meeting of a reconstituted China-India Strategic Dialogue held February 22 Beijing opted not to raise the issue in a seven-hour meeting that, by public accounts, went rather poorly.
Despite the relative silence from Beijing, the South China Morning Post insists India's hosting of Taiwan MPs represents a "shift in Indian policy." That's half right. India has hosted several parliamentary delegations from Taiwan before. But its posture toward Taiwan is indeed shifting.
Slowly At First
Amid a brief honeymoon in Sino-Indian relations, India was one of the first Asian capitals to recognize the People's Republic of China and its OCP in the 1950s. The gesture put India-Taiwan relations into a deep freeze for the duration of the Cold War, with Delhi prohibiting senior officials from engaging their counterparts in Taipei.
In the shadow of the Soviet Union's collapse and a painful economic crisis, Delhi adopted a new "Look East" policy in 1991 designed to strengthen engagement with East Asia. A diplomatic breakthrough with Taiwan followed in 1995 when Delhi and Taipei established complementary representative offices. The ensuing 15 years witnessed a series of modest diplomatic achievements.
In 2002 India and Taiwan signed a Bilateral Investment Agreement.
In 2003 airlines begin direct flights between Delhi and Taipei.
In 2004 former Indian Defense Minister George Fernandes attended a trilateral India-Japan-Taiwan conference in Taipei.
In 2005 and 2006 Delhi hosted separate delegations of Taiwanese legislators and party officials for meetings with their Indian counterparts.
In 2006 Taipei established the Taiwan-India Cooperation Council (TICC), a private organization designed to "act as a bridge to promote economic exchanges and broader cooperation on bilateral interests between Taiwan and India."
In 2007 Ma Ying-jeou, then the head of Taiwan's Kuomintang party, made an unofficial visit to India to give an address at the Indian Council on World Affairs.
In 2007 Taipei and Delhi signed an MoU on Science and Technology cooperation.
After the 2010 visa incident and India's shift on the OCP, the pace of engagement accelerated further.
In 2010 Taiwan hosted former Indian President AJ Abdul Kalam.
In 2010 India and Taiwan signed a deal on degree-recognition in higher education.
In 2010 the two agreed to ease visa rules and requirements for each other's citizens.
In 2011, India was visited by Taiwan's Education Minister, Planning and Development Minister, and Deputy Minister of Foreign Affairs, as well as Taiwan's Deputy Defense Minister and Vice Minister of Economic Affairs.
Ironically, Tsai Ing-Wen also paid a visit to Delhi in 2011, then as the former Chairperson of the Taiwan Democratic Progressive Party (DPP).
In 2011 India consented to Taiwan opening a second Representative Office in Chennai.
In 2011 India and Taiwan signed a Customs Agreement, a Double Taxation Avoidance Agreement, and a Cultural Cooperation Agreement.
In 2011 Delhi signaled it was exploring the potential for a Free Trade Agreement with Taiwan. Notably, the announcement was made by the Indian Ministry of External Affairs; not the Ministry of Economic Affairs.
In separate visits in 2012 and 2014, India permitted former Taiwanese President Ma Ying Jeou and former Vice President Wu Den-yih transit stopovers in Mumbai and Delhi, respectively.
New Sheriff in Town?
When Narendra Modi assumed office in June 2014, some Indian analysts anticipated a more robust diplomatic agenda with Taiwan. After all, Modi was one of the few Indian politicians with legitimate Taiwan experience: in 1999 he visited the island as General Secretary of the BJP, and in 2011 he hosted the largest-ever Taiwanese business delegation in India as the Chief Minister of Gujarat.
Yet, movement was slow during Modi's first year in office. In 2015 officials from Taipei were invited to Delhi for the 8th Taiwan-India Vice-Ministerial Level Economic Conference while Taiwan's Deputy Minister of Economic Affairs attended the "Vibrant Gujarat" conference.
The following January, Tsai Ing-wen was elected Taiwan's first female president and quickly received a congratulatory tweet from Ram Madhav, one of the BJP's top foreign policy gurus. Two Indian MPs initially planned to attend President Tsai's inauguration, but the decision was reversed, coming just one week before a scheduled visit to China by India's president. An Indian scholar and BJP official attended the inauguration in their stead.
In the summer of 2016, President Tsai unveiled a new "Southbound Policy."  Its stated objective: "To make it clear to the international community (especially the nations of ASEAN and South Asia) that Taiwan has bona fide intentions to push forward with cooperation projects and engage in talks and dialogue." As more details of the Southbound Policy emerged, India was frequently identified as one focus of the initiative.
In fact, in recent years India-Taiwan economic relations have flourished, albeit starting from a low base. After investing just $66 million in the Indian economy from 2002-2014, Taiwanese FDI in India surged exponentially in 2015, largely owing to a $5 billion Foxconn investment in Maharastra. Bilateral trade approached $6 billion in 2016 with as many as 90 Taiwanese firms now operating and investing in India.
Weeks after Tsai's inauguration, Delhi held the first edition of a new, high-profile international security conference, the Raisina Dialogue. Former Taiwanese Foreign Minister Hung-mao Tien addressed the conference as a panelist. China, represented at the Dialogue by its own former foreign minister, protested the decision.
Six months later, when Delhi organized another new international security conference in Singapore, Hung-Mao Tien "appeared as a last-minute surprise speaker."  At the 2017 Raisina Dialogue attended by Prime Minister Modi, I-Chung Lai, a Taiwanese scholar and former DPP official, was included in the agenda as a panelist.
This month's parliamentary delegation from Taiwan, meanwhile, was hosted by a newly-constituted India-Taiwan Parliamentary Friendship Forum. The group was formed in December 2016 by 12 MPs from the ruling BJP-led coalition and ten more from various opposition parties. It mirrors a similar parliamentary grouping created by Taiwan MPs last April.
Further Still?
Some Indian analysts have begun urging the Modi government to go further still, by including defense ties in the expanding political and economic portfolio of India-Taiwan relations. Vijay Sakhuja says shared concerns about the activities of the People's Liberation Army Navy "merit a dialogue between the Indian and [Taiwan] navies to share strategic information about PLA Navy deployments." Sumit Kumar claims Taiwan is "ready to host Indian military students at its National Defense University" while others are urging Delhi to send a military attache to Taiwan. At present, Taiwan is permitted to "send an on-duty colonel [to Delhi] as a military attache and two representatives from the National Security Bureau in charge of intelligence exchanges."
In an interview for this article, Indian defense analysts Nitin Ghokale noted how India-Taiwan "Track 1.5 visits and meetings on defense take place more frequently than before." Ultimately, however, he believes "it would be premature to expect New Delhi to upgrade the [defense] relationship openly in the foreseeable future given Beijing's sensitivities in the matter."
Ajai Shukla shared this assessment. While "Taipei is very understanding of India's constraints and never fails to convey its gratitude for whatever support New Delhi proffers," Delhi is "unlikely to do anything to inflame Beijing's insecurities over Taiwan," especially at a time it's increasingly bringing "the Tibet card into play."
Barring any substantial deterioration in Sino-Indian relations, their healthy skepticism seems warranted. Nevertheless, the absence of more formal defense ties doesn't deprive India's turn toward Taiwan of geopolitical and strategic consequence. As Sakhuja notes, the governing elite in Delhi increasingly see Taipei as an "important economic and political partner…to help [India] counter the China-Pakistan nexus."