After the Summit: Where Do US-China Relations Go From Here?
What's Beijing's regional strategy in 2017, how should Washington respond, and where did the Xi-Trump summit fit in?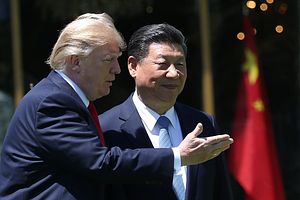 Looking back at Beijing's official public statements and Chinese media's commentaries during 2016, it seems that China had a lot to be gratified about. Beijing largely believes that it made significant progress in the strategic approach to reinforce and strengthen its rising regional (and growing international) role, as evident by the January 2017 release of a policy paper outlining its updated foreign policies on "Asia-Pacific Security Cooperation" as well as one white paper and two strategies on the interlinked and contested global commons of space and cyberspace: China Space Activities in 2016 (December 2016), China's National Cyberspace Security Strategy (December 2016), and China's International Strategy for Cyberspace Cooperation (March 2017).
At the end of 2016, China felt confident that it had: shrewdly diminished the South China Sea (SCS) ruling by the International Tribunal of the Permanent Court of Arbitration (PCA) at The Hague and successfully courted the Philippines, a U.S. treaty ally; complicated the U.S. deployment of the Terminal High Altitude Area Defense (THAAD) system to South Korea, another U.S. treaty ally, and the more threatening Washington-Seoul-Tokyo trilateral alliance; marginalized the independence-leaning Tsai Ing-wen's administration in Taiwan; lessened American preeminence in the region without destabilizing the all-important strategic U.S.-China bilateral relationship; and most importantly, set the strategic conditions for a more robust global role in international affairs in 2017 and beyond.
The just concluded Xi-Trump summit was the latest strategic signaling to the world that Beijing has abandoned its long-standing state policy of "hide one's capabilities and bide one's time" (the strategy of a weak nation) and will now assume its rightful place on the world stage as a destined global power. China is unquestionably a confident economic juggernaut and rising global power, able to manifest its own national destiny (the "Chinese Dream" of national rejuvenation) and dictate increasing power and influence across the interlinked and contested global commons, and thus wants to be treated accordingly. The heavily choreographed summit seems more about visuals than about substance as evident by President Xi Jinping's protocol demands prior to the summit and President Donald Trump's decision to launch strikes against Syria during the summit. The summit itself apparently did not yield any concrete accomplishments beyond the pledges of increased cooperation and new frameworks for dialogue. With the symbolism of a successful meeting out of the way, where do U.S.-China relations go from here?
Looking Back at 2016
Beijing was demonstrably anxious before the PCA ruling came down in July 2016, but Chinese leaders deemed that the realignment of Manila's foreign policy and the muted response from Washington reduced the impact of the historic and sweeping award on maritime entitlements in the SCS. From China's viewpoint, the shift validated its ubiquitous narrative that maritime disputes in the SCS are best handled bilaterally amongst regional neighbors – absent the United States, an uninvited outsider and declining global power. Beijing also appears to have taken the same strategic approach in its relations with Hanoi and the other SCS claimants, while slowly and subtly trying to exercise de facto control of the waters over which, as Chinese leaders have repeatedly told their people through the years, China has had "indisputable sovereignty since ancient times." Of note, Chinese media recently reported that Beijing may consider the revision of its 1984 Maritime Traffic Safety Law, which would allow relevant authorities to bar some foreign ships from passing through Chinese territorial waters. If passed, this will be another instance of China shaping domestic maritime laws to support its developing and evolving maritime strategy, part of a continuing effort to set the terms for international legal disputes it expects will grow as its maritime reach expands. Updating the law will fill domestic legal gaps that it sees as hindering its ability to defend territorial claims in the SCS and East China Sea (ECS) and justify China's increasing activities in international waters.
Of much greater alarm to China is the THAAD system, which was the object of stronger and more negative Chinese strategic messaging than any other U.S. actions in 2016. Beijing continues to employ strategic collaboration with Moscow, economic persuasion, and coercive diplomacy to dissuade (bully) Seoul from deploying THAAD and to place a wedge in the United States-Republic of Korea alliance. Success would be a huge victory for China's regional strategy and a significant setback for U.S. regional influence.
THAAD aside, Taiwan remains Beijing's greatest concern. China is worried by the Tsai administration and also concerned by the Trump administration's initial signaling that it might use the "One China" policy as a bargaining chip in the strategic U.S.-China bilateral relationship. For Beijing, Taipei's possible split is a humiliating historical reminder of its past national weaknesses and an unyielding obstacle to its future national ambitions. In short, Beijing cannot achieve the "China Dream" if Taiwan becomes permanently separated from the mainland. Needless to say, Chinese leaders were extremely relieved when Trump reaffirmed the One China policy prior to and during the summit.     
Looking Ahead
Looking ahead to the rest of 2017, China faces potential international instability, economic volatility, and political uncertainty. Not only will Beijing probably contend with a more "assertive" Washington, it will also likely face a declining economy and a major reshuffle of party leadership at the 19th National Congress of the Communist Party of China (CPC). Five of the seven Politburo Standing Committee members, excluding Xi and Premier Li Keqiang, are expected to retire. But there is growing political uncertainty regarding Xi's long-term plans. He may look to change the CPC's rules to serve an unprecedented third term as president and/or retain his other two titles of general secretary of the CPC and chairman of the Central Military Commission (CMC) to maintain power and influence beyond 2022. Nevertheless, Beijing should guard against strategic overreach and temper its propensity to project overstrength (or overcompensate) during period(s) of political and economic turmoil. If China cannot or chooses not to do so in 2017 and in the coming years, the United States could and should respond appropriately.
First, Washington should formulate, synchronize, and implement diplomatic, information, military, and economic policies that message strategic resolve toward vital national interests and support for regional allies and partners. This will blunt Chinese advancement of its regional strategy to supplant U.S. influence in the Indo-Asia-Pacific. Trade agreements (bilateral and multilateral) in particular can be powerful and effective strategic signals – even in the absence of the defunct Trans-Pacific Partnership. Otherwise, Xi's expected strategic narratives ahead of the 19th National Congress of the CPC – the Chinese economy is growing stably, economic reform is moving forward, and a rising China is playing a more important role on the global scene – will go uncontested and hence carry the day throughout the region.
Beijing often criticizes U.S. actions as provocative and destabilizing to the overall U.S.-China bilateral relationship and part of a wider U.S. campaign to contain its rise and prevent it from taking its rightful place on the global stage as a great power. Therefore, Washington should consider turning the table on Beijing. Frame issues like China's possible unilateral revision of its domestic maritime laws (likely contrary to established international laws and norms), continued assertive moves in the SCS, renewed confrontational actions in the ECS, and bullying of South Korea over the THAAD issue as unnecessary and unhelpful provocations that destabilize the strategic relationship. Consistency and constancy convey to Beijing that Washington is committed to its stated principles and steadfast toward its allies and partners. Inaction implies tacit consent to Beijing, and it will continue to execute its agenda in the SCS/ECS and ambitions in the Indo-Asia-Pacific unhindered and unchecked.
Finally, the United States should prepare to counter the developing Chinese maritime strategy that may be unveiled in 2017. Chinese maritime specialists have long called for a maritime strategy – top-level guidance and direction to better integrate and synchronize the multiple maritime lines of effort in furtherance of national goals. For Beijing, last year's PCA ruling makes this imperative even more pressing. The CPC Central Committee, State Council, and CMC signaled last July their intent to draft such a document as part of Beijing's grand strategy for regional preeminence (and possibly global preeminence). The document proposes coordinating Beijing's maritime development with efforts to safeguard its maritime rights and interests. The United States should consider countering with all instruments of national power to strengthen American preeminence and economic integration across the region. Otherwise, Washington will cede the maritime domain, strategic narrative, and strategic initiative to Beijing; and possibly drive the other regional nations toward greater Chinese bilateral security ties and other economic alternatives like the China-led Regional Comprehensive Economic Partnership. If so, Beijing will gladly take on the burdens and benefits of regional leadership, taking another step closer to a Chinese sphere of influence in the Western Pacific and fulfillment of its China Dream.
In 2017, the United States must further encourage China to become a more responsible global stakeholder that contributes positively to the international system before it is too late. At stake is nothing less than U.S. preeminence in the Indo-Asia-Pacific and ultimately as a global power.
Tuan Pham has extensive experience in the Indo-Asia-Pacific, and is widely published in national security affairs. The views expressed here are his own and do not reflect the official policy or position of the U.S. government.