India, Israel Conclude $2 Billion Missile Deal
The Indian government will purchase a new air and missile defense system.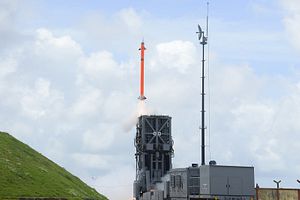 The Indian Ministry of Defense (MoD) has concluded a near $2 billion deal with Israel Aerospace Industries (IAI) for an advanced medium-range surface-to-air (MRSAM) missile system, according to an April 6 IAI press statement.
"In a mega-contract worth over $1.6 billion, considered to be the largest defense contract in Israel's Defense Industries' history, IAI will provide an advanced MRSAM air & missile defense systems to the Indian Army," the statement reads. "The company will also supply additional LRSAM air & missile defense systems for the first build in India Indian aircraft carrier."
Both the MRSAM and the long-range surface-to-air (LRSAM) missile system, also referred to as Barak 8 and Barak LR, were jointly developed by IAI and India's state-owned Defense Research and Development Organization (DRDO) in collaboration with defense contractors in both India and Israel. Joint development agreements for ship and land-based variants of the missile system were signed in 2006 and 2007 respectively.
According to IAI, the missile system is designed to deal with any incoming airborne threats and is equipped with advanced phased-array radar, command and control, mobile launchers and missiles with advanced radio frequency (RF) seekers.  The land variant of the missile system (MRSAM) has a reported range of 70 kilometers (some sources state 90 kilometers), whereas the sea-based system (LRSAM) allegedly boasts an extended range of 90-150 kilometers.
LRSAM will get deployed aboard the INS Vikrant, India's first indigenously built aircraft carrier, Visakhapatnam-class guided missile destroyers, Kolkata-class destroyers, Kamorta-class anti-submarine warfare corvettes, and the still to be constructed future Project 17A class of stealth frigates. So far, LRSAMs have been installed aboard three Kolkata-class vessels. An earlier variant of LRSAM, the Barak-1 supersonic, vertically-launched short range air defense system, is currently in service with both the Indian and Israeli navies.
The Indian Army is slated to receive five MRSAM regiments. According to Indian media reports, the April deal initially includes one regiment of 16 launchers and 560 missiles for the Indian Army. The Cabinet Committee on Security, chaired by Indian Prime Minister Narendra Modi, approved the MRSAM purchase in February of this year. The Indian MoD intends to stand up all five regiments by 2023.
The MRSAM was last successfully test fired from a launch pad at the Chandipur Integrated Test Range (ITR) in the Indian state of Odisha in September 2016. Previous successful test firings of the MRSAM occurred in  June and July 2016. The LRSAM was test launched from INS Kolkata, the lead ship of the Project 15A Kolkata-class, in December 2015 in the Arabian Sea and successfully destroyed aerial targets at extended ranges, the Indian Navy announced at the time.