Indian Navy to Receive 7 Additional Long-Range Surface-to-Air Systems
Bharat Electronics Limited announced on September 5 that is has been awarded a contract to supply seven missile defense systems to the Indian Navy.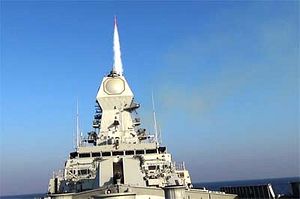 Indian state-owned aerospace and defense company Bharat Electronics Limited (BEL) announced on September 5 that is has been awarded a $1.28 billion contract from Indian shipyards Mazagaon Dock Shipbuilder Limited (MDL) and Garden Reach Shipbuilders and Engineers (GRSE) to deliver seven Barak 8 long-range surface-to-air missile systems (LRSAM), also referred to as Barak LR, for service in the Indian Navy.
"The company has entered into contracts worth about Rs 9,200 crore with Mazagon Dock Limited (MDL) and Garden Reach Shipbuilders and Engineers (GRSE) to supply LRSAM systems," BEL said in a September 5 statement. "This is the highest-ever single value order bagged by BEL." The LRSAM systems will be installed aboard seven surface warfare ships of the Indian Navy.
Ships to be fitted with the LRSAM include Visakhapatnam-class guided missile destroyers, Kolkata-class destroyers, Kamorta-class anti-submarine warfare corvettes, and the future Project 17A class of stealth frigates.  The missile defense system will also be installed aboard the INS Vikrant, India's first indigenously built aircraft carrier. Four Indian Navy ships have already been fitted with the LRSAM systems to date.
The Barak 8 LRSAM missile defense system has been jointly developed by IAI and India's state-owned Defense Research and Development Organization (DRDO) in collaboration with defense contractors in India and Israel, including Rafael Advanced Defense Systems. The two countries began join work on the LRSAM in 2006 with a first successful test firing of the missile system taking place in May 2010.
(The missile was last test fired by the Indian Navy from the 7,500-ton Kolkata-class (Project 15A) guided-missile destroyer INS Kochi in November 2017.)
The vertically-launched two-stage Barak 8, fitted with advanced radio frequency/infrared homing seekers, is designed to deal with a wide range of incoming airborne threats and can intercept targets as close as 500 meters away from a ship. The missile has a maximum speed of Mach 2 and its maximum range is estimated at around 70 kilometers (an extended range version of the Barak 8 can reportedly intercept targets at a distance of up to 150 kilometers.)
LRSAM also features a multifunction active electronically scanned array naval radar system providing 360 degree coverage.
The Indian military is also slated to receive the land-based version of the LRSAM, dubbed medium-range surface-to-air missile (MRSAM). The Indian Army is expected to stand up five MRSAM regiments by 2023 which, next to missile launch platforms, will also come with command and control systems, and tracking radar systems.