Is Tajikistan's Most Famous Militant Gulmurod Khalimov Dead?
Reports say that he was killed in an airstrike on Mosul over the weekend, but he's been declared dead before.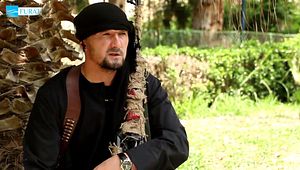 Over the weekend, The Times reported that Tajikistan's most famous militant — Gulmurod Khalimov — was killed in an airstrike on western Mosul. The report cites an Iraqi military source who said that it was the third time that the Tajik commander had been the target of airstrikes in recent months. Mosul, described as the Islamic State's de facto capital in Iraq, has been the site of intense fighting for seven months.
Khalimov, the report said, was the Islamic State's highest ranking commander in Mosul and had been behind the group's defense of the city, as well as orchestrating car bombings and attacks.
In early May 2015, Khalimov (also spelled Halimov) disappeared from Tajikistan where he'd been commander of OMON, a branch of special police under the Interior Ministry, since 2012. In that role he'd received training in both Russia and the United States, the latter of which is often overemphasized in reports about his exploits since vanishing from Dushanbe.
By the end of May 2015, Khalimov had turned up in Syria. Appearing in an ISIS propaganda video, he railed against the United States and the depredations of the Tajik state, urging his countrymen to join the fight in Syria. As summarized by Noah Tucker in a 2016 report on Islamic State messaging toward Tajiks:
[Khalimov] asks Tajikistani police officers and military personnel if they are truly "ready to die" for a state that orders them to strip women of their hijab and "opposes Islam." Halimov [sic] claims he personally witnessed police being ordered to create a fake documentary film showing women wearing hijab engaged in activities forbidden in Islam, including drinking and "sexually immoral" acts. He describes this and the state's other "anti Islamic policies" as "democracy" and asks soldiers and police how they can call themselves Muslims and support those policies.
In summer 2015, Khalimov appeared in a second propaganda video. As Tucker noted in his 2016 report, Khalimov became something of a "celebrity commander." While Uzbek and Russian-speaking militants were targeted with language-specific recruitment efforts and spokesmen, Islamic State's tactics toward Tajiks were different — replying on notable personalities like Khalimov.
Numbers regarding how many Tajiks have traveled to join the various militant groups in Syria are notoriously difficult to arrive at, let alone verify and keep updated, given attrition rates. Tajik authorities say more than 1,100 Tajik citizens have gone to Syria and Iraq, more than 300 have been killed, and more than 100 have returned.
In June 2016, Khalimov was rumored to have been killed in a rocket attack while meeting with Omar al-Shishani, a well-known ISIS commander with a distinctive red beard, in Syria. Al-Shishani had earlier been reported killed in March 2016 — underscoring the difficulty with determining if, where, and when a particular individual has been killed. The next month, ISIS confirmed that al-Shishani was killed in July 2016 near Mosul.
Khalimov, instead of being killed, was promoted. An Iraqi security service source said Khalimov took al-Shishani's place. Iraqi media said he'd been made "Minister of War." In August 2016, the United States described Khalimov as "a key leader" in ISIS and announced a $3 million reward for information on Khalimov. By September, after the death of Abu Mohammed al-Adnani, Khalimov was described as being second-in-command to ISIS leader Abu Bakr al-Baghdadi.
Michael S. Smith, a counterterrorism analyst, told VOA at the time that Khalimov's promotion "further highlights the Islamic State's leadership wishes for the group to be perceived as an entity in which people from anywhere in the world may fill important roles."
Notably, following Khalimov's promotion the percentage of Tajiks among foreign-born ISIS suicide bombers rose. As I noted in the last issue of The Diplomat Magazine, a statistical analysis from the International Center for Counterterrorism – The Hague (ICCT) highlighted the significant place of Tajiks among foreign-born ISIS suicide bombers. While most of ISIS suicide bombers, per the report's analysis, continue to be Iraqi or Syrian, "[o]f the 186 foreigners who died in suicide operations, 27 were Tajiks. The numbers for Tajiks outstripped the number of Saudi (17), Moroccan (17), Tunisian (14), and Russian (13) ISIS suicide bombers, for example." Khalimov's prominent place in ISIS leadership was likely a significant factor in  this rise.
Is Khalimov dead? It's no secret that Khalimov has become a significant target and that fighting around Mosul has intensified — but whether Khalimov is actually dead or escaped again will only become clear with time.
In related news: RFE/RL's Tajik Service reported today that Behrouz Gulmurodov, Khalimov's 18-year-old son, was arrested a few weeks ago. Officials have not commented on the arrest. Khalimov's family told RFE/RL that they had not been informed of the errant commander's death.