Relatives of Gulmurod Khalimov Killed in Fight with Tajik Police
Two of Khalimov's brothers and two nephews were killed.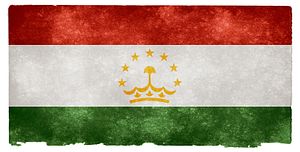 Four relatives of Tajikistan's most infamous militant — former OMON commander Gulmurod Khalimov — were killed during a fight with Tajik police that began on July 4  in Vose district in Khatlon province.
According to RFE/RL, citing a Tajik police officer, two of Khalimov's brothers and two nephews were killed after resisting when police raided a house in Ibrat village. The operation's leader, Colonel Anvar Huseynov, reportedly received several stab wounds. Security sources, cited by Reuters, said that they suspect the men were preparing to cross into Afghanistan. The district is about 25 kilometers (15.5 miles) from the Afghan border.
Khalimov's 52-year-old brother, Sultanmurad, was reportedly among the dead. The other three have not been named and there is little information available about the raid. As RFE/RL notes, the four men had not been formally charged with Islamic State membership but had been under surveillance in Dushanbe, suspected of involvement with the group Gulmurod defected from state service to join in 2015.
Gulmurod Khalimov vanished from Tajikistan in early May 2015, turning up in an ISIS propaganda video later that month. He had been commander of OMON, a branch of special police under the Interior Ministry, since 2012 and the recipient of both U.S. and Russian training. His position and experience made his defection all the more embarrassing for Dushanbe. It also made Khalimov a valuable recruit and he quickly rose to prominence in Syria.
In August 2016, the United States described Khalimov as "a key leader" in ISIS and announced a $3 million reward for information on Khalimov. By September, after the death of Abu Mohammed al-Adnani, Khalimov was described as being second-in-command to ISIS leader Abu Bakr al-Baghdadi.
In April 2017, however, Iraqi security sources said Khalimov had been killed in Mosul. His death has not been confirmed by ISIS, the United States, or Tajikistan. The battle for Mosul — where al-Baghdadi declared the caliphate in June 2014 — has been ongoing since October 2016 but seems to be nearing its end, with Iraqi security sources claiming that only 300 ISIS fighters remain holed up in the Old City.
Meanwhile, both within Tajikistan and outside the country, Khalimov's relatives have been subjected to surveillance and pressure.
In April, Khalimov's 18-year-old son, Behrouz, was arrested. There are two separate stories about his arrest that, if little else, once again underscore the difficulty of figuring out precisely what is happening. According to RFE/RL's Tajik Service, while news of Behrouz's arrest became known on April 17, the actually arrest occurred three weeks prior. Asia-Plus, however, reported that Behrouz was arrested in April while trying to board a flight to Moscow. The second more closely matches the Tajik government's preferred narrative that Behrouz was trying to join his father.
On July 4, Akipress repeated Russian media reports that another of Khalimov's nephews, F. Khalimov, had been extradited to Tajikistan in late June. The allegation is that he was recruiting for ISIS and planning on going to Syria, via Turkey.