Russia Conducts Anti-Submarine Warfare Exercise in Asia
A Russian anti-submarine warfare aircraft successfully destroyed an enemy boat in a simulated attack.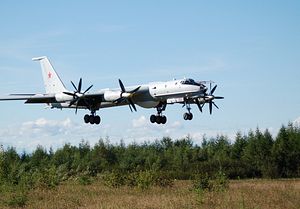 This week, Russia's Pacific Fleet — the country's second biggest fleet — conducted an antisubmarine warfare exercise in waters off the Russian territory of Khabarovsk in the country's Far East.
The drill involved long-range Tupolev Tu-142MZ maritime reconnaissance and anti-submarine warfare aircraft of the 568th Independent Composite Aviation Regiment, based at Kamenny Ruchey Airbase, executing a simulated attack on an enemy submarine.
According to Russian media reports, the target was a submerged Russian diesel-electric submarine. "In the given district, anti-submarine warfare specialists have imitated the elimination of a Pacific Fleet diesel-electric sub that pretended to be an 'enemy' submarine," Pacific Fleet spokesman Vladimir Matveyev told Tass news agency on April 18.
While the report does not mention what type of submarine was used in the exercise, it is likely that a Type 877 Kilo-class diesel-electric attack submarine stood in for the enemy boat. Russia's Pacific Fleet currently operates eight Type 877 subs. However, it is unclear how many of the boats are in fact operational.
Russia's Pacific Fleet is also slated to receive six improved Project 636.3 Kilo-class (aka Vashavyanka-class) diesel-electric attack submarines by 2021. As I explained in September 2016:
The Project 636.3 Kilo-class is an improved variant of the original Project 877 Kilo-class design. The updated version is slightly longer in length — the sub's submerged displacement is around 4,000 tons —  and feature improved engines, an improved combat system, as well as new noise reduction technology. The submarine has a crew of around 50 and can conduct patrols for up to 45 days. 
The Tupolev Tu-142MZ is the latest variant of the Tu-142, which was originally designed by the Tupolev design bureau and built by the Kuibyshev Aviation and Taganrog Machinery Plants from the late 1960s to the early 1990s.
The variant currently in service with Russian Naval Aviation reportedly features a modern avionics suite and advanced anti-submarine warfare equipment. Russia currently operates 14 Tu-142MZ aircraft, although their operational readiness is unknown.
India retired its fleet of eight four-engine Tupolev-142MK-E (along with five Ilyushin-38 aircraft) in March of this year after 29 years in service. In lieu, the Indian Navy has acquired U.S.-made Boeing Poseidon 8I Neptune advanced maritime patrol/anti-submarine warfare aircraft.
Russia's naval aviation arm, along with the Russian Air Force, has been stepping up its activities in the Asia-Pacific region over the last three years and has again assumed regular long-range patrols. As I reported last week, two Tupolev Tu-95MS strategic bombers and one Ilyushin Il-20 maritime reconnaissance and anti-submarine warfare aircraft conducted patrols along the perimeter of Japanese airspace on April 12. (However, media reports of two additional T-142 aircraft sent to the Sea of Japan appear to have been unfounded.)
"According to a newly released MoD statistic, encounters with Russian military aircraft rose 4.5 percent over the last fiscal year to 301 scrambles," I explained. "In comparison, fiscal year 2015 saw 288 JASDF sorties in reaction to Russian military aircraft. With 473 JASDF scrambles, 2014 remains the top year for Russian incursions. Overall, the MoD reports that the JASDF scrambled its fighter jets 1,168 times in fiscal year 2016, up from 873 in 2015."
The Russian Air Force is also currently standing up a new long-range heavy bomber division consisting of Tu-95MS and Tu-22M3 long-range bombers in the country's Far East. It is unclear whether the unit is already operational.