Solid Fuel, Canisters, ICBMs, and Tracked TELs: What North Korea Is up to With Its Missiles
Melissa Hanham explains why what North Korea showed off at its latest military parade really matters.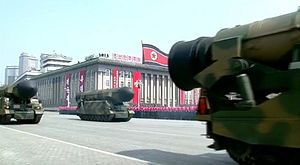 Melissa Hanham (@mhanham), a senior research associate at the James Martin Center for Nonproliferation Studies at the Middlebury Institute of International Studies at Monterey joins The Diplomat's Ankit Panda (@nktpnd) to discuss the latest developments in North Korea's ballistic missile and nuclear weapons programs. The episode focuses heavily on missile systems and configurations displayed at North Korea's April 15, 2017, military parade.
Click the arrow to the right to listen. If you're an iOS or Mac user, you can also subscribe to The Diplomat's Asia Geopolitics podcast on iTunes here. If you use Android, you can subscribe on TuneIn here. If you like the podcast and have suggestions for content, please leave a review and rating on iTunes and TuneIn.