Unpacking Tsai Ing-wen's New Southbound Policy
Can Taiwan's latest attempt to avoid economic dependence on China succeed?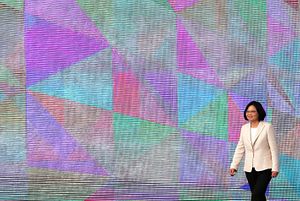 President Tsai Ing-wen is attempting to reinvigorate and diversify Taiwan's economy. Currently, trade with China constitutes over 20 percent of Taiwan's total trade. The over $100 billion in cross-Strait trade is nearly double that of Taiwan's second largest trading partner, the United States, leaving the island nation heavily reliant on the Chinese economy. Cross-Strait economic integration began under President Lee Teng-hui in the 1990s and accelerated under Chen Shui-bian, who implemented a policy of "active opening and effective management" in 2001. Tsai's predecessor, Ma Ying-jeou, also promoted economic cooperation with the mainland, which proved unpopular in his second term and helped propel Tsai's Democratic People's Party (DPP) to power in landslide presidential and Legislative Yuan races in early 2016.
Tsai's push for new regional partners, called the "New Southbound Policy," is similar but more strategic than the policies of Lee and Chen. Like its forerunners, Tsai's policy seeks to lessen the mainland's dominance of Taiwan's trade, but it is more comprehensive and emphasizes building an extensive network of cultural and interpersonal relationships throughout the region.
The economic challenges facing Taiwan are not entirely unique. States that rely heavily on trade as a source of economic activity and growth are often susceptible to fluctuations in the global market. This is especially true for Taiwan, which according to World Trade Organization, had a 63 percent trade to Gross Domestic Product ratio from 2013 to 2015. Furthermore, Taiwan's trade with China is compounded by a contentious political environment. Unlike other small nations that are dependent on large trade partners, Taiwan must also contend with its disputed sovereignty, leaving it uniquely vulnerable to coercion from China.
Taiwan's broader economic conditions have compounded this disproportionate reliance on China. At present, Taiwan's economy is expected to have grown a paltry 1.5 percent in 2016, a mild improvement from the 2015 growth rate of 0.72. Projections from Taiwan's Statistical Bureau for 2017 place its year-on-year growth rate at 1.92 percent. Stagnating wage rates and falling exports further contribute to the island's economic struggles.
The answer to Taiwan's economic struggles may hinge on exploring economic opportunities elsewhere in the region. ASEAN and South Asian nations encompass 32 percent of the world's population and have a combined GDP of $5.1 trillion. Global Insight estimates that the annual economic growth rate for ASEAN and South Asian countries will be between 4.9 and 7.4 percent from 2017 and 2021. The developed economies of Australia and New Zealand offer safe, highly regulated investment environments.