US Dispatches Carrier Strike Group to Korean Peninsula
In a show of force by the Trump administration, several U.S. warships will be heading to the Korean Peninsula.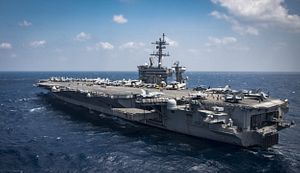 The commander of U.S. naval forces in the Pacific, Admiral Harry Harris, has ordered the nuclear-powered Nimitz-class aircraft carrier USS Carl Vinson and support ships, including two Arleigh Burke-class guided-missile destroyers and one Ticonderoga-class guided-missile cruiser, to the waters off the Korean Peninsula in a response to North Korea's latest intermediate-range ballistic missile test, U.S. Pacific Command announced on April 8.
The carrier strike group, scheduled for a port call in Australia, has purportedly reversed course, the statement explains: "Carl Vinson Strike Group, including Nimitz-class aircraft carrier USS Carl Vinson (CVN 70), embarked Carrier Air Wing (CVW) 2, Arleigh Burke-class guided-missile destroyers USS Wayne E. Meyer (DDG 108) and USS Michael Murphy (DDG 112), and Ticonderoga-class guided-missile cruiser USS Lake Champlain (CG 57), will operate in the Western Pacific rather than executing previously planned port visits to Australia."
The USS Carl Vinson deployed to the Pacific in January. For the duration of its deployment, the aircraft carrier is homeported at Yokosuka Naval Base in Japan's Kanagawa Prefecture.
"Carl Vinson has deployed to the region several times, starting with a deployment to the Western Pacific in 1983, a year after commissioning," the statement reads. "Most recently in 2015, Carl Vinson conducted port visits and exercises with regional navies in the South China Sea." While forward deployed in 2017, the USS Carl Vinson has also been conducting routine patrols in the South China Sea.
Last month, the carrier strike group participated in the Republic of Korea-United States Combined Forces Command eight week-long Foal Eagle exercise, a series of military drills conducted by U.S. and South Korean air, ground, naval, and special operations forces. Together with the Key Resolve computer-simulated command post exercise, Foal Eagle is the largest annually-held joint U.S.-South Korean military drill.
While the press statement does not specifically mention North Korea, the cancellation and redeployment of the USS Carl Vinson is designed as a show of force and to demonstrate U.S. commitment to defend its regional allies — South Korea and Japan — in the face of North Korean aggression, according to U.S. Navy officials speaking on the condition of anonymity.
In response to recent North Korean provocations, South Korea reportedly successfully test launched a new ballistic missile with an estimated range of 800 kilometers last week.  The missile tested in all likelihood was an improved variant of the Hyunmoo (현무, which literally means "Guardian of the Northern Sky") missile family and will be deployed by the end of the year.
During a television interview on April 9, the U.S. president's national security advisor, Lieutenant-General H. R. McMaster, underlined the threat North Korea posed for the region and the United States, stating that the deployment of the USS Carl Vinson to waters off the Korean Peninsula was "prudent."
"North Korea has been engaged in a pattern of provocative behavior," McMaster said "This is a rogue regime that is now a nuclear-capable regime. The president has asked to be prepared to give him a full range of options to remove that threat to the American people and to our allies and partners in the region."