Why Selling F-35s to Taiwan Is a Terrible Idea
Taiwan would be better off investing its limited resources in advanced surface-to-air missile systems.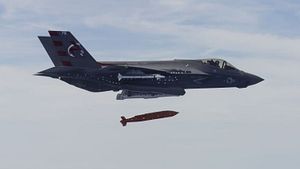 The Trump White House is mulling a new package of arms sales to Taiwan, according to unconfirmed media reports. The weapons could allegedly be sold as early as this summer and may include fifth generation Lockheed Martin F-35 Lightning II fighter aircraft and advanced air defense systems.
Whether the possible F-35 sale was a tactical leak by the White House to prop up U.S. President Donald Trump's negotiating position vis-à-vis his Chinese counterpart Xi Jinping during their first face-to-face encounter in Florida this week, or whether there is indeed a kernel of truth in the reports, the question remains how useful F-35 fighter jets would be for Taiwan in the event of a war with China.
The short answer: not very.
While I don't intend to provide a detailed analysis of different China-Taiwan war scenarios (the Rand Corporation has an excellent report on the subject here), it suffices to say that the F-35 would be a bad choice for two reasons. First it would be too expensive for Taiwan's relatively modest defense acquisition budget. Second, F-35s would be highly vulnerable to destruction on the ground by the People's Liberation Army Air Force (PLAAF) or Chinese ballistic missiles before they could even take off offsetting any advantage Taiwan would gain from procuring the fifth generation fighter jet.
Taiwan currently fields around 320 operational aircraft, including domestically designed and produced F-CK/IDF fighter jets, French Mirage 2000-5 jets, and retrofitted U.S.-made F-16 combat aircraft.  Should the Republic of China Air Force (ROCAF) decide to procure F-35s (most likely the F-35B variant capable of vertical or short takeoffs and vertical landings so that the aircraft could take off even on a destroyed runway), it would it all likelihood retire a major portion of this fleet while retrofitting a number of aircraft (e.g., the F-16s) given budgetary constraints and lack of infrastructure to support a larger fleet of aircraft. (It appears more than unrealistic that the RCAF would have the funds to acquire 150 F-35A conventional fighters and 60 short take-off/vertical landing F-35B stealth fighters, as reported elsewhere.)
Taiwan is estimated to spend about $25 billion in the next 20 years on maintaining and overhauling its fleet of fighter aircraft. With Taipei's annual defense spending averaging $10-11 billion, the Taiwanese military's investment in its fighter fleet is a substantial financial burden. According to a Diplomat estimate, procuring a fleet of 50-60 F-35Bs from the United States would approximately cost $9-12 billion, excluding operational expenditures. Assuming that Taiwan's defense spending is not going to increase substantially in the coming years, this would leave very few financial resources to invest into asymmetric capabilities such as new surface-to-air missile (SAM) systems.
Without additional SAM defense systems, Taiwan's 31 medium- and long-range SAM batteries — including Patriot PAC-3 batteries, the I-HAWK medium air defense system, and the TK I/II/III Sky Blow series of SAM anti-ballistic missile defense systems — the Republic of China's Missile Command will be hard pressed to defend against the People's Liberation Army's approximately 1,100 to 1,300 ballistic missiles, hundreds of cruise missiles, long-range multiple rocket launchers, and 600 PLAAF aircraft likely to be unleashed in the event of conflict. The country's missile defense capabilities would simply be overwhelmed by sheer saturation.
Taiwan's inability to fend off aerial strikes would mean that runways would be relatively quickly destroyed by ballistic missiles fitted with runway penetrating submunitions, hardened aircraft hangars destroyed by cruise missiles armed with unitary warheads, and most ROCAF aircraft knocked out on the ground by guided bombs. Even if some F-35s were to survive this initial onslaught, the aircraft would quickly be robbed of their necessary support infrastructure to continue operations. Consequently, should some F-35s manage to take off, it would likely be for a single sortie given the high probability that they would not have a functioning airbase to return to.
It goes without saying that this is a worst case scenario and it presupposes that the PLA has a high level of training, missiles capable of hitting targets with high accuracy, and deploys a good mix of fourth generation fighter aircraft (J-10, J-11A, and J-11B) next to a smaller number of fifth generation fighter jets. It also assumes that U.S. forces could do very little at the initial stage of a China-Taiwan conflict, which as the recently published U.S.-China Military Scorecard shows does not necessarily have to be the case.
Notwithstanding, given the PLA's sheer size, it almost certainly will be very difficult for the Republic of China Army to quickly move reinforcements to the shores to fend off a ground invasion without adequate air cover even if the PLA turns out to be less trained and its weapons less accurate and functional than assumed. A dispersed fleet of 50-60 F-35s, supported by the 31 SAM batteries currently in service, is simply not capable of adequately covering Taiwan's ground forces against hundreds of enemy aircraft and thousands of missiles of all varieties.
How could Taiwan overcome this air cover deficit?
Taiwan will need to invest in a mixture of new highly mobile medium- and long-range SAM defense systems to the point where the sheer quantity of new SAM batteries becomes a quality of their own. Should Taiwan decide to abandon its fighter fleet (which would include divesting from the idea of acquiring F-35s), it would have $25 billion in funds available to acquire new SAM defense systems in the next 20 years.
The Achilles heel of any SAM defense system is its radar system: You lose your radar; you lose your ability to launch your missiles. Avoiding single points of failure and investing in additional mobile radar systems (stationary radars are an easy target) is therefore one way to prop up Taiwan's air defense systems. However, this is only part of the solution.
In a 2016 study, the Rand Corporation suggests that Taiwan should stand up 21 so-called air defense platoons, equipped with two Sentinel radars per unit, and armed with 1,600 to 2,100 AIM-9X or AIM-120 missiles for an estimated cost of $8.1 to $9.2 billion. "These would benefit from further investments in Patriot/TK III systems ranging from five to 12 new batteries and 300 PAC-3 missiles. These would cost between $4 billion and $10.6 billion and would give Taiwan a capability to sequentially deal with a coercive attack (…) and an invasion," the study finds.
The combined cost of these new SAM systems equals the amount to be spent on the RCAFs existing stockpile of fighter jets or a hypothetical fleet of 50-60 F-35Bs. "The combination of a short-range interceptor, such as a ground-launched AIM-9X, which can shoot down weapons fired at the Sentinel radar, and a longer-range ground-launched AIM-120 makes for a formidable defense when used appropriately with the more-capable and costly Patriot/TK III defenses," the study adds.
Thus, a combination of new air defense platoons with new long-range SAM platforms (including a Terminal High Altitude Area Defense system) would be able to buy Taiwan's defenders enough time to repel an initial invasion by partially reducing the defender's "saturation" problem. Consequently, while the F-35 may be a formidable weapons platform, Taiwan would do very well not to acquire the warplane for the time being given current budgetary realities and its limited use in a conflict. Instead, the Republic of China should invest in asymmetrical capabilities including new SAM systems to deter Beijing or repel an invasion.