Taiwan Pushes For Sale of F-35 Fighter Jets
Taiwan will officially declare its intention to procure the fifth generation fighter jet this summer.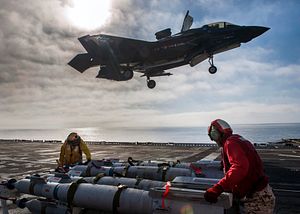 Taiwan's Ministry of Defense will formally declare its intention to procure fifth generation Lockheed Martin F-35 Lightning II fighter aircraft to U.S. officials in July, according to the country's Minister of National Defense Feng Shih-kuan.
Addressing a meeting of the Legislative Yuan's Foreign Affairs and Defense Committee in late April, Taiwan's defense minister stated that ministry representatives will formally declare Taiwan's intention to purchase the F-35 fighter jet to their U.S. counterparts in July during a visit to Washington, the Taipei Times reports.
The United States has so far not filled key political appointee positions which would cover U.S.-Taiwan defense relations, which, according to the minister is the reason for the delayed request. "Because the appointments of [US] officials have not yet been completed, [a formal proposal] would be made to Washington in July," he said.
The minister also bluntly stated to Taiwanese lawmakers that the reason for the request is in response to "the enemy's military development." Given U.S. President Donald Trump's increasingly softer stance on China, which vehemently objects to the sale of F-35s to Taiwan, there are questions about whether Taiwan will succeed in convincing the White House to approve the sale in the immediate future.
The Trump administration is currently drafting a new arms package for Taiwan, which according to some sources will heavily tilt towards anti-ship, surface-to-air, and surface-to-surface missile systems. The package is expected to exceed $1 billion in value.  One of the key questions regarding the Trump administration's arms package whether it will include U.S. technical support for Taiwan's new so-called Indigenous Defense Submarine (IDS) program.
While supporting the program would send a clear political message to Beijing, "U.S. technical support may be of limited value in any case given that no American shipyard has built a diesel electric submarine since the 1950s," I explained elsewhere. Nevertheless, the United States has purportedly agreed to sell advanced MK-48 heavyweight torpedoes to Taiwan in 2016 and the weapons could be part of the Trump administration's arms package.
Taiwan first expressed interest in the F-35B variant–capable of vertical or short takeoffs and vertical landings–in May 2002. Taiwan officials cited a need for up to 100 F-35B aircraft at the time. However, U.S. officials rebuffed the request along with earlier requests for upgraded F-16 fighter aircraft. (In 2011, U.S. President Barack Obama eventually agreed to upgrade the Republic of China Air Force's fleet of around 140 F-16s.)
From a military point of view, the F-35Bs will not significantly boost Taiwan's deterrence capabilities versus mainland China, as I explained last month (See: "Why Selling F-35s to Taiwan Is a Terrible Idea"):
First it would be too expensive for Taiwan's relatively modest defense acquisition budget. Second, F-35s would be highly vulnerable to destruction on the ground by the People's Liberation Army Air Force (PLAAF) or Chinese ballistic missiles before they could even take off offsetting any advantage Taiwan would gain from procuring the fifth generation fighter jet. (…)
Instead, I argued that Taiwan should invest in asymmetrical capabilities including new SAM systems such as AIM-9X or AIM-120 missile batteries, Patriot/TK III air defense systems, and Terminal High Altitude Area Defense (THAAD) systems to deter China and, in the event of conflict, to successfully repel an invasion.