From China's New Aircraft Carrier to Malabar 2017: Naval Update in the Asia-Pacific
The Diplomat's editors discuss recent naval procurement decisions and exercises across the Asia-Pacific region.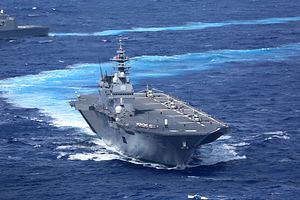 The Diplomat's Ankit Panda (@nktpnd) and Prashanth Parameswaran (@TheAsianist) discuss naval and maritime security developments in the Asia-Pacific, including China's launch of its first indigenously built aircraft carrier, IMDEX 2017 and Singapore's procurement of new submarines, the Malabar 2017 exercise, Australia-India naval ties, and Japan's deployment of the JS Izumo to the South China Sea and Indian Ocean.
Click the arrow to the right to listen. If you're an iOS or Mac user, you can also subscribe to The Diplomat's Asia Geopolitics podcast on iTunes here. If you use Android, you can subscribe on TuneIn here. If you like the podcast and have suggestions for content, please leave a review and rating on iTunes and TuneIn.