Indian Army to Buy 11 US Heavy Attack Helicopters
The Indian Army and Indian Air Force are both slated to operate one of the world's most advanced heavy attack helicopters.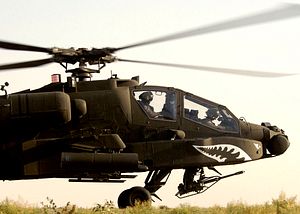 The Indian Army is slated to place an order for up to 11 U.S.-made AH-64E Apache heavy attack helicopters, the latest and most advanced variant of the helicopter gunship, according to Indian media reports. The new helicopters will  provide the service with a much needed close-air support capability.
As I reported previously, India and the United States concluded an agreement for the procurement of 22 AH-64E Apache attack helicopters and 15 CH-47F Chinook heavy-lift helicopters in November 2015. For a number of years, the Indian Army has been engaged in a tug of war with the Indian Air Force over who should operate this future fleet of Apache gunships. The Army initially asked for the gunships to be inducted into its ranks, or for the Air Force to at least share the helicopters with the ground forces. The Air Force, however, rejected both proposals.
The Hindu now reveals that the matter came up again during last week's Defense Acquisition Council (DAC) meeting, chaired by Indian Defense Minister Arun Jaitley. According to an unnamed defense ministry source, the Indian Army finally got its way and will operate separate AH-64E squadrons in the future.
The November 2015 weapons deal includes an optional clause for a follow-on order of 11 extra Apaches and seven Chinooks. The Mail Today reported on May 20 that the Army is seeking to buy a total of 39 AH-64E helicopters to be divided up into three squadrons and stationed near India's borders with China and Pakistan. Should the Indian Army indeed wish to procure 39 Apache gunships, a new contract would have to be negotiated, which could take a while. As I reported back in 2015:
 India's Cabinet Committee of Security (CCS), a government body headed by Indian Prime Minister Narendra Modi and responsible for military procurements, approved the purchase… after more than ten (some sources say 13) American price validity extensions, which stipulate that the American defense contractor Boeing would sell the military hardware at the price agreed upon in 2013.
A new contract would not only involve price haggling, but also include difficult negotiations over U.S. offset obligations. Indeed, the prolonged negotiations over the initial batch of 22 Apache helicopters are partially to blame for the inter-service rivalry. In 2012, then Indian National Security Advisor Shankar Menon decided that any new attack helicopters procured would go the Army. The Air Force, however, countered that it had already begun the acquisition process in 2012.  Following extensive field trials, the Indian Air Force selected the Apache gunship and the Chinook helicopter in 2009.