Nepal Joined the Belt and Road. What Does That Mean for India?
How should India respond to its neighbors' embrace of China's "Belt and Road"?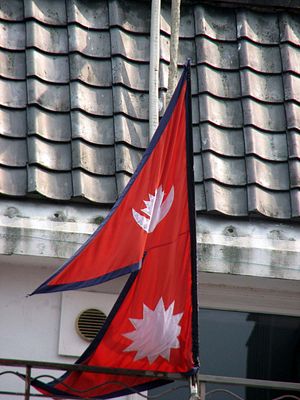 A few days before China hosted its biggest diplomatic show in support of the Belt and Road Initiative on May 14 to 15, Beijing was able to bring Nepal on board as a member of its Silk Road plan. While there have been questions about Kathmandu's decision to join the project, it should not come as a surprise. Nepal's decision highlights the ongoing Sino-Indian competition for strategic space in South Asia, veiled under the guise of connectivity routes and infrastructure development.
India's strongest opposition to the project has come in the form of its official absence from the Belt and Road forum. New Delhi also urged all scholars to get prior permission before attending the forum. While India has opposed the forum on grounds of sovereignty, its reasons involve genuine strategic concerns regarding the entire project. New Delhi has time and again referred to India's commitment to transparency, rule of law, and openness on connectivity projects as an answer to joining the Belt and Road Initiative (BRI), suggesting Beijing does not follow these principles. China in turn has put significant diplomatic muscle into gathering top-level participation from across the globe in support of its ambitious projects and negating any negative perspectives.
As China moves ahead with its ambitious plan to create economic corridors across the subcontinent and the Indian Ocean, New Delhi must pay close attention to the strategic economic developments in nations such as Sri Lanka and Nepal. It is no surprise that Kathmandu has signed a framework to join Beijing's BRI.  Beijing has been in conversation with Nepal (among a number of other nations) about creating bilateral corridors; some of these talks began long before the launch of the BRI. While the Himalayas have always been considered as natural barriers, China and Nepal now present the mountain range as an opportunity for collaboration. China in 2014 proposed the Trans-Himalayan Economic Corridor to connect with Nepal with participation from India. This is in addition to a number of rail links between China and Nepal, which will reduce Nepal's dependence on India for transit as an economic corridor. Beijing proposed the Himalayan Corridor as a part of its broader Silk Road project in an attempt to include India and perhaps allay suspicions from New Delhi.
Nepal has expressed keen interest in the Himalayan Corridor in order to pose itself as the transit hub between India and China. Nepalese Prime Minister Pushpa Kamal Dahal in 2016 noted that the "Himalayas can no more be considered as barriers and obstacles. Instead, they can serve as important bridges that connect the two emerging regions of Asian continent. Most importantly, connectivity lies at the heart of trans-Himalayan cooperation." China and Nepal are also discussing a rail link connecting the two countries through Mt. Everest, an ambitious project requiring the construction of tunnels in creating this corridor. Previously, Beijing and Kathmandu flagged off a new freight rail link in 2016, a significant move after the 2015 India-Nepal blockade, which highlighted Kathmandu's reliance on India for trade and economics. As Kathmandu began to grapple with its fuel crisis because of the blockade, Beijing quickly became a feasible alternative to Nepal's dependence on India.
China is unlikely to unveil one grand plan detailing the process and framework for BRI. It will continue to proceed under a bilateral framework and present any achievements within the larger multilateral BRI framework. This is precisely why Beijing has put in considerable work bringing together leaders from around the world in a show of support for the project. The BRI summit was a platform for China to showcase a unified global voice in support of its connectivity projects, which are otherwise marred with serious strategic suspicions. While India remained absent from the forum, most of its neighbors participated at the highest levels, including Sri Lanka (which sent Prime Minister Ranil Wickremesinghe) and Nepal (represented by Deputy Prime Minister and Finance Minister Krishna Bahadur Mahara).
India has significant strategic concerns regarding the BRI and Beijing-led connectivity projects in general. China's increasing footprint in India's neighborhood poses a serious threat to Delhi's strategic significance in South Asia. Although China's engagements are commercial, there is little doubt about the strategic underpinnings of these connectivity corridors. India's Foreign Secretary S. Jaishankar has noted, "The interactive dynamic between strategic interests and connectivity initiatives — a universal proposition — is on particular display in our continent. But we cannot be impervious to the reality that others may see connectivity as an exercise in hard-wiring that influences choices."
India must realize that the BRI will go ahead with or without New Delhi's presence. China will continue to build new connectivity corridors and deepen its economic engagements. India will have to articulate a response of its own by correcting its relationship in the neighborhood and presenting new and fresh ideas as alternatives to Chinese-led economic projects. While New Delhi cannot match Beijing's BRI initiative in scope and capital, it still does enjoys stronger bilateral relationships in the neighborhood. India must continue to build on these relationships and tackle the BRI on a bilateral basis instead of as one big project, just like China is doing. At the same time, New Delhi must be conscious of an anti-India sentiment emerging in the region creating a positive environment for Beijing-led initiatives.
India must learn to exploit the Chinese-led initiatives to forward its own agenda on infrastructure development and economic corridors. New Delhi could perhaps tap into its relationship with Japan, a key economic player in the region, to offer alternatives to its friends and neighbors. Most importantly, India should not shy away from articulating a strategic threat or competition and building a response to counter such initiatives. New Delhi must take serious note of the changing strategic environment in the South Asia and the Indian Ocean region instead of downplaying the emergence of a new security dynamic in its neighborhood.
Darshana M. Baruah is a research analyst with Carnegie India.