China's Belt and Road Comes to Nepal
The Belt and Road could help Nepal reduce its economic dependence on India.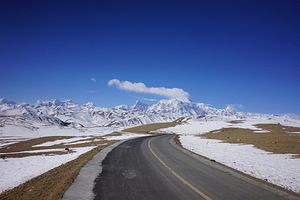 Thanks to a recently signed memorandum of understanding between Nepal and China, Beijing's Belt and Road Initiative (BRI) has been discussed as a possible alternative gateway for Nepali access to China, Central Asia, and Eastern Europe. Nepal, so far connected to world trade through the southern route and India, has not been able to fully utilize its potential due to infrastructural clogs across the border, including lack of road, rail, and port facilities.
Nepal faces an arduous challenge in uplifting itself from a least developed country status to middle income country by 2030. The priorities for the country are meeting need for connectivity, creating employment, and increasing trade. A World Bank study estimates that Nepal needs to invest 2.3 to 3.5 percent of GDP annually to adequately develop its connectivity alone, including strategic and local roads. The BRI, which is exclusively focused on bridging the infrastructure gap, can help fill the financial and material void of the Himalayan nation. Moreover, remembering trade obstruction at the southern border of Nepal in 2015, which choked the economy for three months, the situation demands that the country should start analyzing the pros and cons of joining the BRI.
Through the BRI, China proposes connecting 65 countries, encompassing around 30 percent of the global economy, which would require nearly $5 trillion of investment. Given the size and ambitions of the project, some commentators have dubbed it the "Chinese Marshall Plan." Although in describing the project China is putting a clear emphasis on inclusivity and "win-win" cooperation, India harbors deep concerns about the implications of the projects for its strategic interests. India's official response to the BRI has been cautious and relatively muted. With regards to Nepal, New Delhi might be apprehensive about any BRI-related project that challenges the grip it has traditionally enjoyed in Nepal.
Given the geopolitical issues, the BRI vision would not move forward if China adopts crude "great power diplomacy" and esoteric planning. Beijing needs to clarify the modus operandi, make the Belt and Road Initiative transparent. and bring in credible financing mechanisms. For Nepal, which has been struggling to balance relations between its two neighbors, and continues to debate the BRI despite having signed the MoU, China demonstrating crystallized intentions about the initiative could pacify doubts.
Nevertheless, it seems that for Nepal, the BRI comes at the right time to push forward collaboration and upgrade access to China, India, and beyond — to Southeast Asia and Europe — allowing Nepal to march toward its development aspirations. Once Nepal is plugged in to wider transportation links, the BRI could offer remarkable opportunities for tourism. As Nepal cements itself as transit country between China and India, it would not only become a destination for Hindus visiting Mansarovar or Kailash, but also for Chinese nationals visiting Lumbini and Buddhist sites in Nepal. Connectivity via China to Central Asia and Europe would also open up market access to the 65 BRI countries. The opportunity to export Nepali manufactured goods and services to these markets would increase income from freight, insurance, and banking businesses.
Additionally, at a recently concluded investment summit organized by the Investment Board of Nepal (a government agency), China pledged more than 61 percent of the total FDI commitments. If translated into tangible outcomes, the BRI would see an influx of more funds and employment opportunities in the hydropower, hospitality, and aviation sectors, which would restore dilapidated infrastructure and industries.
The BRI can be a development catalyst in Nepal, helping increase the country's financial cushion and improving social and economic conditions. Furthermore, as Nepal seeks to graduate from being a least developed country and become a middle income country prior to 2030, economic collaboration under the BRI would minimize Nepal's singular dependence on India, which is forged not only by economic interests but by geography as well. Nepal's participation in the BRI would help foster economic aspirations without the fear of another blockade at the southern border of the country.
Avash Mani Dixit is a policy analyst based in Washington, D.C., the United States.