North Korea's New Intermediate-Range Ballistic Missile, the Hwasong-12: First Takeaways
North Korea introduces the Hwasong-12, a "perfect weapon system" that may bring the U.S. territory of Guam into range.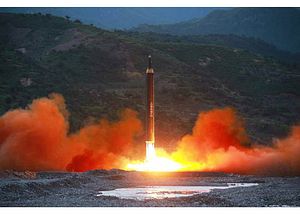 On Monday, North Korea released images of the new intermediate-range ballistic missile (IRBM) it tested on Sunday, May 14, near the town of Kusong in North Pyongan province. As I noted over the weekend, that missile, based on data released by South Korean and Japanese authorities, was likely the longest-range capable ballistic missile North Korea has tested to date (excluding its satellite launch vehicles, which aren't ballistic missiles). North Korea has now christened its new missile the Hwasong-12 and, according to Korean Central News Agency, North Korea's state news agency, the missile is a "new ground-to-ground medium long-range strategic ballistic rocket." Translated, the missile's range falls somewhere between Pyongyang's Musudan (Hwasong-10) and its as-yet-untested intercontinental-range systems.
The KCNA report noted that the test "proved to the full" a range of systems, including "guidance and stabilization systems, structural system and pressurization, inspection and launching systems and reconfirmed the reliability of new rocket engine under the practical flight circumstances." The test "also verified the homing feature of the warhead under the worst re-entry situation and accurate performance of detonation system," KCNA noted.
Some readers may recall, looking at the images released by North Korea's Rodong Sinmun state newspaper, that this isn't the first time we've seen the Hwasong-12. North Korea showed off this missile for the first time at its April 15 parade. Back then, I noted that the missile looked like a "variant of the long-discussed KN-08 or KN-14 intercontinental ballistic missile." Based on the video footage from the parade and newly released imagery, it appears that this new missile may be something like a shorter, single-stage version of the KN-08 (presumably with a similar or even identical warhead).
The imagery released by North Korea on Monday also shows that this new missile uses liquid propellant and may be using an engine similar to the high-thrust engine North Korea tested in March of this year. (Remember, North Korea told us then that the "whole world will soon witness what eventful significance" that engine tested carried back in March — we may just have found out.)
We may have also even gotten a hint of these new missiles showing up out in the wild earlier this year. In January, South Korea's Yonhap news agency reported, citing South Korean military officials, that North Korea had built and placed "two missiles presumed to be intercontinental ballistic missiles" on transporter erector launchers. That report also added that the missiles were "estimated to not exceed 15 meters in length, making them shorter than the North's existing ICBMs, the 19-20 meter-long KN-08 and the 17-18 meter-long KN-14." At the time, there was no known North Korean missile that fit that description.
Meanwhile, Reuters had also added back then, reporting on the same observed missiles, that South Korean "intelligence agencies" believed the missiles could possibly be "the lower-half of an ICBM." Additionally, as Jeffrey Lewis has observed, United States Strategic Command described two failed North Korean missile launches out of Kusong's Panghyon Air Base in October 2016 as "presumed Musudan" tests. That assessment may have been based on an observation of Musudan transporter-erector-launchers as the missiles exploded shortly after launch. (The Hwasong-12 uses an armored version of the same TEL as the Musudan IRBM.)
In aggregate, a lot of this suggests that North Korea may be treating the Hwasong-12 IRBM as a stepping-stone to a liquid-fueled ICBM — and perhaps even developing something new altogether, apart from its existing KN-08 and KN-14s. In the meantime, however, this likely single-stage IRBM fills an important role in North Korea's burgeoning nuclear forces and nuclear strategy.
As I discussed with MIT's Vipin Narang on a recent podcast, North Korea has long made a point of intending to deter the United States from preemptive action against it by threatening the U.S. territory of Guam, where the U.S. Air Force notably stations its strategic bomber force for the Pacific theater, including B-1Bs and B-2s. The Musudan (Hwasong-10) had originally been described as North Korea's 'Guam-killer' missile, but its range would likely be inadequate to deliver a nuclear payload. Based on the Hwasong-12's range and apogee on Sunday, David Wright estimates that it should be able to comfortably overshoot Guam. As a result, this single-stage IRBM — even if it may be less efficient than the Musudan — fills an important role for North Korea's nuclear forces.
There are a few other questions Sunday's launch leaves behind. KCNA describes the Hwasong-12 as a missile "capable of carrying a large-size heavy nuclear warhead." North Korea had claimed that its January 2016 and September 2016 nuclear tests were of fully staged thermonuclear devices. Most independent analysts believe that Pyongyang likely tested a more modest boosted fission device in both tests. North Korea has also claimed important advances in developing a compact nuclear device (recall the infamous photograph released last year of Kim Jong-un standing adjacent to what appeared to be a compact physics package). Parsing out KCNA language isn't the easiest, but a "large-size heavy nuclear warhead" is suggestive of the North Koreans envisioning something like the Hwasong-12 (and longer-range systems) throwing a heavier payload, including potentially a fully staged thermonuclear device should that see successful testing and miniaturization in the coming years. (A sixth North Korean nuclear test continues to loom as a possibility.)
Second, as the White House's bizarrely worded statement in the aftermath of the launch noted, the Hwasong-12 splashed down "closer to Russia than to Japan." The statement continued that U.S. President Donald J. Trump "cannot imagine that Russia is pleased" by this development. In fact, U.S. officials told CNN that the missile may have splashed down just 60 kilometers of the Russian coast. The Russian Ministry of Defense noted that the launch, however, "posed no danger" and landed 500 km away from the Russian coast.
Based on a map seen in the released Rodong Sinmun imagery and a computer monitor behind Kim Jong-un showing the missile's intended trajectory, it does appear that the projectile splashed down somewhere between the U.S. and Russian claims. A rough estimate suggests that the splashdown may even have been within Russia's exclusive economic zone. Meanwhile, North Korea's KCNA statement went out of its way to note that the "test-fire was conducted at the highest angle in consideration of the security of neighboring countries."
It's unclear if Pyongyang was attempting to provoke Moscow with this launch; relations between the two capitals have remained relatively warm in recent years compared especially to North Korea's post-2013 chill in ties with China. Remember too that Sunday's launch came just hours before Chinese President Xi Jinping kicked off China's banner diplomatic event for the year: the Belt and Road Forum. Even if the Russian Defense Ministry denies that the launch posed no threat, a splashdown within Russia's EEZ and with such proximity to the headquarters of the Russian Navy's Pacific Fleet in Vladivostok can hardly be reassuring.
Ultimately, we're still hardly one day out from this test launch and a lot of the above remain preliminary conclusions. The United Nations Security Council will meet on Tuesday to discuss a course of action after this latest missile test. In the meantime, North Korea watchers will be hard at work poring over the released imagery and other data to gain additional insight into Pyongyang's missile ambitions.