2017: Year of the North Korean Intercontinental Ballistic Missile?
Kim Jong-un lays out an offer for Donald Trump in his new year's address.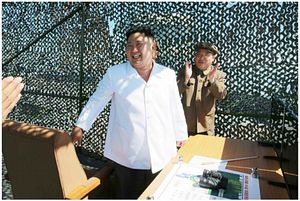 North Korean leader Kim Jong-un's fifth new year's address to kick off 2017 quickly picked up headlines around the world for a reference to the country's as-yet-untested intercontinental ballistic missile (ICBM) program. Kim noted that North Korea had "entered the final stage of preparation for the test launch of [an] intercontinental ballistic missile" in 2016.
Kim's statement wasn't bluster. North Korea, as it made progress on its submarine-launched KN-11 ballistic missile and intermediate-range Hwasong-10 ballistic missile last year, also made important strides that will take it closer to realizing a flight test of its KN-08 and KN-14 ICBM systems. (Neither system has been tested, but both have been seen publicly on transporter erector launchers.)
For instance, in September last year, North Korea carried out a successful test of 80 ton force single engine liquid fuel booster that could one day propel its ICBMs. September's test lasted 200 seconds and involved a "newly developed high-power engine is a single engine whose thrust is 80 [ton force]." Earlier in the year, North Korea showed off a ballistic missile nose cone capable of surviving atmospheric reentry — a must for any intermediate-range or intercontinental-range missile and something that was long thought to be one of the few areas out of North Korea's reach.
The reference to the ICBM in Kim's address came alongside a laundry list review of the achievements in North Korea's nuclear and ballistic missile testing in 2016. Indeed, the North Korean leader had much to be proud of given that 2016 marked the busiest year of missile and nuclear testing since 2006, when North Korea tested its first nuclear device under Kim's father, Kim Jong-il.
The U.S. Department of Defense's 2015 assessment of North Korea's ICBM program estimated that "if successfully designed and developed, the KN-08 likely would be capable of reaching much of the continental United States."
North Korea already has some familiarity with testing long-range rockets through the country's satellite launch vehicle program. In February 2016, Pyongyang launched the Kwangmyongsong-4, its fourth satellite launch vehicle, which, if configured for atmospheric reentry and weapons payload delivery, would be able to strike much of the continental United States.
Significantly, Kim's 4,500-word new year's address included an off-ramp: If the United States and South Korea stop their expansive and annual Foal Eagle and Key Resolve drills, North Korea may freeze testing. The following paragraph was almost designed for direct consumption by the incoming U.S. administration of Donald Trump:
We will continue to build up our self-defense capability, the pivot of which is the nuclear forces, and the capability for preemptive strike as long as the United States and its vassal forces keep on nuclear threat and blackmail and as long as they do not stop their war games they stage at our doorstep disguising them as annual events. We will defend peace and security of our state at all costs and by our own efforts, and make a positive contribution to safeguarding global peace and stability.
This paragraph also seems to follow from the North Korean Ministry of Foreign Affair's long memorandum in the final weeks of 2016. (I discussed that here.) Pyongyang, perhaps aware of Trump's preference for deal-making, is laying down an opening negotiation position, hoping that the Trump administration breaks with U.S. status quo policy that has applied punitive sanctions on North Korea while waiting for a bona fide gesture toward denuclearization, allowing the long-dead Six-Party Talks to resume.
North Korea has additionally held off on significant and public missile testing since the outcome of the U.S. election. Its final major test was the failed launch of a Hwasong-10 during the final U.S. presidential debate in late-October. North Korea may have additionally carried out a cold ejection test of its submarine-launched ballistic missile in December, but notably did not publicize it.
North Korea's signaling, through its tests, suggests that it wants the United States to come to terms with the fact that denuclearization (or "complete, verifiable, and irreversible denuclearization") has failed. Meanwhile, direct messaging from Pyongyang — both through the Foreign Ministry memo and Kim's address — suggests that if a Trump administration wants to discuss anything with North Korea, regular U.S.-South Korea exercises must stop.
Setting aside what North Korea wants, there are strong signs that the incoming U.S. administration will make the country's nuclear program a priority. Recall that early in the presidential transition, outgoing U.S. President Barack Obama impressed on Trump that North Korea should be his administration's top national security priority.
Reuters, shortly after Kim's address, reported that, according to an unnamed U.S. intelligence official, the U.S. president-elect's first request for a classified briefing was on North Korea. Given Trump's disinterest in briefings otherwise, this suggests that the administration may be taking Obama's message seriously. Moreover, Michael Flynn, Trump's national security advisor designate, has also emphasized the urgency of North Korea's nuclear program.
North Korea's place on the incoming administration's national security agenda may be clearer than the anticipated direction of U.S. policy. As a candidate, Trump hinted at directly speaking with Kim Jong-un. (The United States and North Korea have no formal diplomatic ties.) However, on Monday evening, Trump took to Twitter to declaim the following: "North Korea just stated that it is in the final stages of developing a nuclear weapon capable of reaching parts of the U.S. It won't happen!"
Trump's tweets may or may not play an important part in how his administration ultimate shapes policy, but it's at least worth noting that there's an implicit declaration that "a nuclear weapon capable of reaching parts of the U.S." would cross a red line. (Alternatively, the tweet can be read as Trump simply asserting that North Korea's claim is a bluff and it's not as far along with its ICBM as Kim claims.) While Trump's tweet is ambiguous, how the administration will handle the problem of North Korea is even less clear.
I wouldn't expect a Trump-Kim summit anytime soon, but something will have to give in the existing U.S. approach to North Korea to prevent further missile testing by North Korea (and yes, that includes a potential flight test of an intercontinental ballistic missile). Even if Trump doesn't think a North Korean ICBM is realistic, many nuclear and missile experts do.
One of the more worrying trends out of North Korea in 2016 was the unprecedented rapid pace of Musudan testing, which appeared frenzied at times, especially in April and May before the one successful test in June. It's unclear how long Kim's freeze on publicized and significant missile testing will last, but if North Korea doesn't see any promising reason to believe Trump will come to the deal-making table, expect to see testing resume.