US National Security Chief Confirms No Plans to Charge South Korea for THAAD
Lt. Gen. H.R. McMaster manages the fallout from Trump's THAAD comments.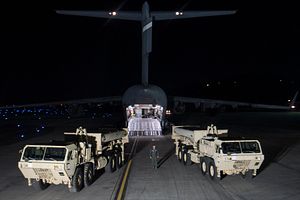 U.S. National Security Adviser Lt. Gen. H.R. McMaster said on Sunday that the United States will bear the costs of the deployment of the Terminal High Altitude Area Defense (THAAD) system in South Korea.
McMaster's remarks come days after U.S. President Donald J. Trump suggested in an interview that South Korea should bear the approximately $1 billion in costs for the deployment of the advanced missile defense system, which comes amid a surge in North Korean ballistic missile testing since the beginning of 2016.
"Why should we pay for it? … I respectfully say that I think it would be appropriate if they paid for it," Trump had told Reuters on Friday, in an interview reflecting on his first 100 days in office.
"What I told our South Korean counterpart is until any renegotiation, that the deals in place, we'll adhere to our word," McMaster said on Fox News. "The last thing I would ever do is contradict the president of the United States," McMaster added.
"And that's not what it was. What the president has asked us to do, is to look across all of our alliances and to have appropriate burden sharing-responsibility sharing. We're looking at that with our great ally South Korea, we're looking at that with NATO."
South Korean National Security chief Kim Kwan-jin spoke to McMaster about the issue on Sunday, with the two agreeing that the United States would continue to bear the cost of the deployment.
The system, which is being deployed in the southern part of South Korea, in Seongju County in North Gyeongsang province, will primarily defend U.S. military assets in South Korea.
McMaster told Kim that Trump's statement on THAAD's costs "were made in a general context with American people's hopes for [defense] cost sharing by allies in mind."
With South Korea's elections now just more than a week away, Adm. Harry Harris, the commander of U.S. Pacific Command, said that THAAD will be operational "in the coming days."
China has criticized the U.S.-South Korea alliance's decision to deploy THAAD, fearing for its national security due to the powerful AN/TPY-2 X-band radar that accompanies the system.