Why Is Cambodia's Illegal Logging Problem Still Rolling On?
Report contradicts the official position that industrial-scale illegal logging is finished.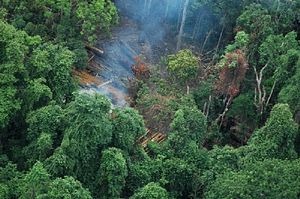 Since Cambodian Prime Minister Hun Sen's reelection in 2013, the environment has been touted as one of his areas of success, with crackdowns on illegal logging, sand dredging, and wildlife poaching through a restructured ministerial portfolio.
But a major report by the London-based Environmental Investigation Agency (EIA) has now cast doubts over that record, alleging corrupt government officials and military personnel in Vietnam are complicit in smuggling huge quantities of illegal timber from Cambodia.
It was an unwelcome rebuke for Hun Sen and his Environment Minister Say Sam Al, with commune elections due on June 4 and corruption looming as a major issue.
"Those involved are pocketing millions of dollars in bribes from timber smugglers for their part in allowing hundreds of thousands of cubic meters of logs stolen from Cambodia's National Parks to be laundered into Vietnam's voracious timber economy," the EIA found.
Illegal Logging in Protected Areas
The report was released just days ahead of Vietnam and the European Union (EU) signing off on an agreement seeking to ensure only legal timber is exported from Vietnam.
"This is the single largest log-smuggling operation that we have seen for years. Vietnam must address this weak approach to any agreement with the EU to combat illegal logging and the associated trade," EIA Senior Forests Campaigner Jago Wadley said.
"Any Forest Law Enforcement, Governance and Trade, or FLEGT, agreement that does not address the fundamental issues which Vietnam is currently ignoring will result in a fundamentally flawed agreement."
Cambodian authorities insist large-scale illegal logging stopped last year after a crackdown and a ban on timber exports to Vietnam in January, 2016. But between November 2016 and March this year, EIA investigators discovered illegal logging on an unprecedented scale.
This included illegal logging in Community Protected Areas (CPAs) in Virachey and Ou Ya Dav national parks and in the Lumphat Wildlife Sanctuary, all protected areas in the remote northeast province of Ratanakiri — some of which, the EIA said, are funded by the EU.
"Instead of rejecting this illegal wood, Vietnamese state and security officials have issued and administered formal quotas which give it lawful status in Vietnam's economy, directly facilitating massive illegal logging in Cambodia even as the latter is publicly seeking to stop all timber trade with Vietnam," the report found.
The EIA said about 300,000 cubic meters of logs have been smuggled out of Cambodia and laundered in Vietnam under these quotas. It alleged kickbacks are likely to have amounted to more than $13 million since the beginning of November 2016.
"Not only are Vietnamese officials corruptly profiting but so too is the Vietnamese state, formally taxing the illegal traffic of logs and so effectively taking a cut of the criminal businesses it has sanctioned.

"Vietnamese timber traders pay millions of dollars in bribes to Cambodian officials to open up logging areas and smuggling routes in Cambodia; they told undercover investigators how they also have to pay bribes of up to $45 a cubic meter to Vietnamese officials, including the Chairman of Gia Lai Provincial People's Committee, customs, and border army personnel in return for quotas allowing them to import into Vietnam."
Illegal logging, land grabbing, a yawning wealth gap, and corruption will feature prominently as campaigning gets underway for the commune elections, where some 12,000 posts ranging from commune chiefs to council positions will be contested.
There are 1,621 communes made up of 14,703 villages, and in a country with no formal public opinion polls, these local elections offer the best indicators as to how the two main political parties are performing – in particular the ruling Cambodia People's Party (CPP).
Hun Sen and the CPP were returned at national elections in 2013 but with a sharply reduced majority after the nation's burgeoning youth vote sided with the opposition Cambodian National Rescue Party (CNRP).
Other Allegations
The EIA report is reminiscent of the findings by Global Witness four years ago following investigations into the Cambodian rubber industry and alleged land grabbing by Vietnamese companies and their European backers, including the World Bank's International Finance Corp (IFC) and Germany's Deutsche Bank.
According to that report, privately owned Hoang Anh Gia Lai and state-owned Vietnamese Rubber Group acquired more than 200,000 hectares of land through a series of deals with the Lao and Cambodian governments that lacked transparency.
"Vietnamese state involvement in multi-million-dollar transnational organized timber crime simply cannot be accepted by the international community and absolutely must not be ignored by the EU," Wadley of EIA said.
He said when it comes to timber theft, Vietnam had significant previous experience. Until 2015, hundreds of thousands of cubic meters of logs a year flowed into the country in open violation of Laos' log export ban. That stopped only when Laos new leaders banned all raw timber exports.
Well-known Cambodian-based environmentalist Marcus Hardtke was critical of the government and the CPP, which has ruled here since the Vietnamese invaded and ousted the Khmer Rouge from power in late 1978.
"The Vietnamese continue to plunder Cambodia's forests; the Hun Sen government is unable or unwilling to stop it. This is an organized, state-sponsored crime," he said.
Independent investigations by the Phnom Penh Post also supported the EIA report, with the national daily saying their probe had found "evidence of illegal logging on a huge scale."
It also said Vietnamese news sites last month had reported that 16 enterprises in Vietnam's Gia Lai province were given permits until May 30 to import at least 300,000 cubic meters of timber from Cambodia.
"The permits made Gia Lai 'one of the largest importers of timber in the country', states one article, which specifies they cover timber from all categories, including rare species," it said.
Just last week, Environment Ministry officials in Ratanakkiri were searching for timber traders who set 300 logs of luxury wood ablaze in the Lumphat Wildlife Sanctuary – an effort to destroy the evidence after it was discovered by villagers in a remote area.
Thirty percent of the logs were destroyed before the fire was contained.
With commune elections approaching, the CNRP will use the EIA report for political mileage, particularly when campaigning in rural areas. As such, Hun Sen and Say Sam Al should be expected to take this EIA report seriously and substantiate its findings. The government also needs to act on the allegations before the June 4 poll.
Luke Hunt can be followed on Twitter @lukeanthonyhunt