China Launches Next-Generation Guided-Missile Destroyer
A new domestically-produced warship was launched in Shanghai on June 28.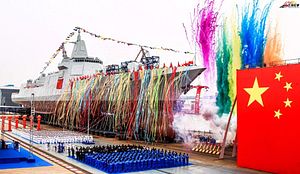 The People's Liberation Army Navy (PLAN) has launched a new 10,000-ton warship at Shanghai's Jiangnan Shipyard on Wednesday morning, the Chinese Ministry of Defense (MoD) announced on June 28.
Measuring about 180 meters long and over 20 meters wide, the new Type 055 guided-missile destroyer–the lead vessel of a new class of PLAN surface warships–has been hailed as "a milestone in the PLA Navy's strategic transformation and development," according to the Chinese MoD.
General Zhang Youxia, member of China's Central Military Commission (CMC) and head of the CMC Equipment Development Department, presided over the ceremony and delivered a speech in which he underlined that the warship launch marks an important step towards China's dream of having a strong and modern naval force.
"Equipped with new types of air defense, anti-missile, anti-ship and anti-submarine weapon systems, the new destroyer has strong capabilities of information detection, air and missile defense, and maritime target attacking," the MoD notes in a statement. "A series of technical breakthroughs in overall vessel design, information integration and assembly has been made during the shipbuilding process."
The PLAN is slated to receive four ships of the class divided into two groups, although some sources indicate that the PLAN could commission up to eight Type 055 ships. As Robert Farley pointed out in October 2016, the new ship will likely form the core of a long-range PLAN battlegroup and will be an integral part of the Chinese Navy's first carrier strike group.
The Chinese MoD did not reveal details on the ship's armament.
According to earlier reports, the warship, featuring a stealth shaped superstructure, is to be fitted with two 64-cell vertical launch system capable of firing anti-ship (e.g., YJ-18)  and land attack cruise missiles; as well medium and long-range air defense missiles (such as the HHQ-9). The ship will also be armed with a 130 millimeter main gun and will be able to accommodate two  Z-18 anti-submarine warfare helicopters.
The ship also boasts two Type 1130 close-in weapons systems (CIWS) and four powerful Type 346x naval active phased array radar systems for the detection of aircraft, missiles, and ships.
"There is no denying that the Type 055 has a better combat capability than the U.S. Navy's Arleigh Burke-class Aegis destroyer in several areas, and its main mission is to protect large surface vessels like an aircraft carrier and amphibious transport dock," a Beijing-based naval expert told the Global Times on Wednesday. "We can confidently say that, as far as destroyers are concerned, there is no generation gap between China and the U.S. anymore," Li added.
Some analysts, however, have pointed out major design flaws in the ship including the low positioning of its flat-array radar system.
The latest U.S. Defense Department report on China's military modernization calls the Type 055 a "cruiser" rather than a destroyer given the ship's size.
"Next, it is learnt that the new guided-missile destroyer will carry out equipment debugging and sea trial as planned," the ministry noted. Following extensive sea and weapons trials, the lead ship of the new Type 055 class is expected to be commissioned in 2018 or 2019.