China Kicks off Work on 6th Type 055 Guided-Missile Destroyer
China has begun construction of its sixth Type 055 destroyer at a shipyard in Dalian.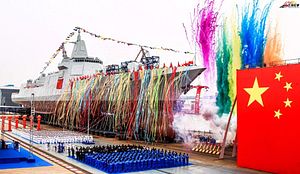 China has reportedly begun construction of its sixth Type 055 guided-missile destroyer on order for the People's Liberation Army Navy (PLAN), according to commercial satellite imagery analyzed by IHS Jane's Defense Weekly. The destroyer is being built at the Dalian shipyard in Liaoning province.
"The imagery shows that the pier side assembly of the first modules for hull 6 began between 21 December 2017 and 3 January 2018," the March 14 analysis notes. "Two Type 055 hulls (3 and 4), both of which are in the late stages of assembly, are present in a neighboring dry dock."
Furthermore, according to Jane's, three other ships of the class — Hulls 1, 2, and 5 — are currently under construction at Shanghai's Jiangnan Shipyard, where the lead vessel of the class was also launched in June 2017.
The Type 055 guided-missile destroyer class is one of the PLAN's most ambitious shipbuilding programs to date. Measuring about 180 meters long and over 20 meters wide and displacing around 10,000-tons, the Type 055 is among the largest warships launched in East Asia after World War II.
Given the Type 055's size, the Pentagon has classified the ships as cruisers rather than destroyers. Along with Type 052D Luyang III-class destroyers, the Type 055 is expected to form the core future long-range PLAN battlegroups and will be an essential part of the PLAN's first carrier strike group.
Accommodating a crew of over 300, the Type 055 class features a stealth shaped superstructure and deck fitted with two 64-cell vertical launch systems purportedly capable of firing medium- to long-range surface-to-air, anti-ship, and land-attack cruise missiles.
The ship is also armed with a 130-millimeter main gun. Later versions of the Type 055 destroyer could also be armed with a railgun as the ship is fitted with an integrated electrical propulsion system (IEPS) capable of meeting the electrical needs of such a weapon system.
The destroyer is also armed with two Type 1130 close-in weapons systems (CIWS) and can accommodate two Z-18 anti-submarine warfare helicopters or alternatively two Changhe Z-18 medium transport helicopters in the ship's stern hangard.
Part of the so-called Chinese Aegis, the new destroyer is also equipped with four powerful Type 346B naval active phased array radar systems for detecting and defending against incoming aircraft, missiles, and surface warships.
"We can confidently say that, as far as destroyers are concerned, there is no generation gap between China and the U.S. anymore," a Chinese naval expert told state-run Chinese media last year. As I noted, however, Western analysts "have pointed out major design flaws in the ship including the low positioning of its flat-array radar system."
The PLAN plans to field at least eight Type 055 destroyers in the coming years.