China Tightens Censorship: Farewell, Celebrity Gossip?
China shuts down dozens of popular paparazzi social media accounts overnight.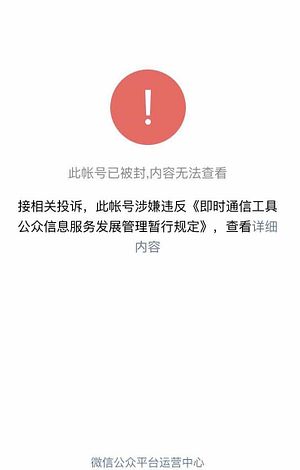 China is tightening censorship day by day, and it is often difficult to predict who will be hit by the iron fist next day. Chinese celebrity gossip social media accounts have just become the latest victim.
On June 7,  China's internet censor, Beijing Network Information Office, suddenly announced the closing down of dozens of popular social media accounts– mostly related to celebrity gossip and entertainment news– both on Weibo (Chinese equivalent of Twitter) and WeChat (China's most popular social network). Although the Office hasn't published the list of shuttered accounts, some reports said at least 60 accounts have fallen victims to the campaign.  None of these social media accounts, albeit with hundreds of thousands of followers, were able to leave their last words. Among these deleted accounts is China's No. 1 Paparazzo Zhuo Wei, who is famous for exposing Chinese celebrities' scandals and has gained the nickname of "the Discipline Inspection Commission on stars and celebrities."
According to Beijing Network Information Office, the crackdown on paparazzi news is for the young people to have a healthy Internet life as the summer vacation is approaching. Meanwhile, the Office also encourages the netizens to report on any "vulgar" information, in order to maintain the purification of the cyberspace. Those individuals who provide important clues will get rewards.
One netizen commented under the announcement, "We want to report you, Beijing Network Information Office," and the comment was deleted soon after it got hundreds of thumbs-up.
Ironically, the Office claims that the crackdown has won "positive feedback from all walks of lives."
It is noteworthy that the crackdown also brings huge financial losses to many of these accounts' owners. For example, in the name of "anti-vulgar information," one social media account, which published sharp movie reviews and has nothing to do with celebrity gossip, was also shut down, despite that the account has already gained financial investment from capital ventures.
Tong Zongjin, an associate Professor of China University of Political science and Law, said on his Weibo:
The crackdown on celebrity gossip social media accounts involves not only the political rights, but also the property rights. If any account wants to take legal action, I'd like to provide free legal service.
Soon after, Tong's Weibo account was shut down, too.