No, Europe Won't Get Turkmen Gas by 2019
Turkmenistan's no closer to seeing its gas reach the European markets it once envisioned.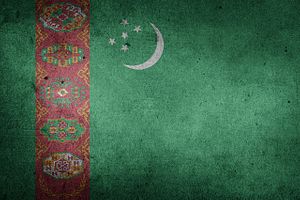 A few years ago, as Europe roiled in the aftermath of Russia's invasion of southern Ukraine, representatives from Brussels cast about for any and all alternatives to gas imports from Russia. Including domestic fracking and LNG terminals, European officials began to push for the completion of the Southern Gas Corridor, which would transit Azerbaijan's gas stock toward European markets via both the Trans-Adriatic (TAP) and Trans-Anatolian (TANAP) pipelines.
But Brussels' search for non-Russian fuel didn't end at the Caspian. As Maros Sefcovic, the European Commission vice president, revealed in 2015, Brussels was keen on accessing Turkmenistan's gas supply. The Turkmen gas would transit to European markets via a to-be-completed trans-Caspian pipeline, which would subsequently link up with TANAP. Moreover, Sefcovic set a firm date to expect Turkmen gas to reach the European Union: 2019.
At the time, the idea was fanciful enough for any number of reasons, most notably due to Russian and Iranian willingness — or lack thereof — in permitting a trans-Caspian pipeline to bypass their own transit routes. Two years on, with a trans-Caspian pipeline appearing no closer to fruition, the notion of Turkmen gas reaching European markets by the end of the decade appears that much more farfetched, a notion that Sefovic hinted at last month to his Turkmen audience.
Speaking via video to the participants of Ashgabat's Energy Charter Forum, Sefcovic dialed back any expectation that Turkmen gas would transit to the European Union over the next 24 months. Couching his rhetoric in diplomatic niceties, Sefcovic nonetheless acknowledged that a trans-Caspian pipeline remains simply a "possible extension" of TANAP, all but acknowledging that his target date of 2019 had effectively passed. Sefcovic hasn't given an alternative date for an anticipated receipt of Turkmen gas, but the video message likely did little to soothe the growing concerns out of Ashgabat about decreasing customers, and commensurate declines in revenue, surrounding its gas exports.
As it is, Turkmengas's chief executive announced that Ashgabat would be increasing its gas exports to China to 38 billion cubic meters (bcm) this year, a 9 percent jump from 2016. While the export should help take care of a bit more of the remaining debt Turkmenistan owes to Beijing, it's a far cry from the planned expansion that fell through earlier this year. Likewise, while Sefcovic congratulated Turkmen authorities on progress surrounding the TAPI pipeline to India, that progress still appears largely superficial.
As 2017 reaches its midpoint, Ashgabat appears no closer to solving its gas – and economic – woes than it did this time last year. And no matter how many congratulatory video messages Brussels sends, Turkmenistan's no closer to seeing its gas reach the European markets it once envisioned.