Panama Switch Marks China's Return to Checkbook Diplomacy
Taiwan should resist the temptation to also play the game of offering aid for recognition.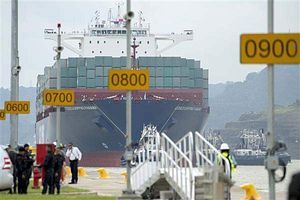 Panama's President Juan Carlos Varela announced late on June 12 his intention to break diplomatic relations with Taiwan in exchange for recognition from China. Most countries switched to Beijing by the end of the 1970s, after Taiwan (as the Republic of China or ROC) lost its seat in the United Nations in 1971 to the People's Republic of China (PRC).
Panama had recognized the ROC since 1912 and with Panama's move, Taiwan is left with formal relations with only 20 countries. Consistent with previous cases of countries switching recognition to China, Taiwanese officials immediately announced the end of joint projects in the country and the closing of their embassy in Panama. However, it is unclear yet if Taiwan will cancel scholarships for Panamanian students currently in Taiwan, as has happened occasionally in the past when diplomatic relations ceased.
Panama was the most important Taiwanese ally in Central America on account of the Panama Canal, which contributed to its geopolitical and economic salience in the region. Moreover, Panama was the linchpin of a Central American bloc of countries that maintain diplomatic relations with Taiwan. Taiwan's important political and economic regional role was institutionalized via its position as an extra-regional observer in the Central American Integration System (SICA), which seeks to enhance economic cooperation and policy integration of the region's countries. In return, Taiwan has made major foreign aid contributions via SICA, including underwriting its new headquarters in El Salvador.
Panama's diplomatic recognition of China follows China's growing economic clout. Aside from being the second most important user of the Canal, Beijing is also the biggest supplier of goods to the Free Trade Zone of Colón, the second largest such zone in the world. Experts from the Ministry of State Security-affiliated China Institutes of Contemporary International Relations noted that Panama's decision could have geopolitical effects because of its ramifications for Central American countries that continue to recognize Taiwan. While it is unlikely that all of Taiwan's formal diplomatic allies in Central America (Belize, El Salvador, Guatemala, Honduras, and Nicaragua) will switch in the short term, especially as China prefers to space out such diplomatic gains for maximum media impact, Panama's switch will certainly add pressure to consider such a move.
Taiwan's formal diplomatic relations are particularly susceptible to Chinese offers of aid and investment. For decades both Beijing and Taipei were accused by the other of engaging in "dollar diplomacy" or "checkbook diplomacy," where various forms of international aid appear tied to switching diplomatic recognition. Whereas diplomatic recognition traditionally is rarely revoked once established, several poor countries have switched recognition between China and Taiwan multiple times since the 1950s. For example, Senegal and the Central African Republic switched five times each since both originally established relations with Taiwan in 1962. This switching suggests that ideological motives have largely been trumped by economic interests. Furthermore, previous research suggests that as exports as a percentage of GDP increase, countries were more likely to recognize China over Taiwan.
With China's economic rise, its willingness to engage in similar strategies to woo susceptible allies grew, limiting Taiwan's ability to stave off such losses. This competition temporarily ceased with a diplomatic truce under Taiwan's President Ma Ying-jeou (2009-2016), despite efforts by others to restart the competition, including The Gambia's unilateral breaking of relations with Taiwan in 2013 without a Chinese offer to establish relations and Panama's own offer to switch to China in 2010, which was rebuked by Beijing. However, since the Taiwanese elected Tsai Ing-wen president in January of 2016, China's interest in maintaining the truce has faded, with Beijing establishing relations with The Gambia and Sao Tome and Principe in 2016, the latter coming after Taiwan reportedly rejected an additional aid request.
China's return to diplomatic competition in part reflects the country's displeasure with Tsai refusing to reaffirm the so-called  "1992 consensus," a term coined in 2000, where both sides claimed to be part of a "one China," a phrase left open to interpretation. The statement was made in the absence of the now ruling Democratic Progressive Party and contrasts with a growing Taiwanese identity since democratization.
Panama's switch highlights China's returned willingness to use aid and investment as a means to, as Tsai put it, suppress Taiwan on the international stage. For example, the Chinese company Landbridge Group purchased Panama's largest port, Margarita Island, in 2016, with a billion dollar Chinese investment project to expand a port and terminal access to the Panama Canal beginning earlier this month. The switching of recognition by Panama not only may lead to a domino effect among Taiwan's Central American relations, but could potentially limit Taiwanese economic activity through the Panama Canal if cross-strait relations further deteriorated.
Despite the news of losing Panama, Taiwan should avoid returning to the "dollar diplomacy" cycle where the loss of one diplomatic relation frees up aid to woo away a country recognizing China. Joseph Wu, secretary-general to the president of the ROC, reiterated that Taiwan would not return down this path. Not only does such a recognition-for-aid policy encourage countries to undermine cross-strait stability, but it distracts from informal relations with powerful countries, which are more crucial to Taiwan's long-term interests. While Panamanian relations were symbolically important and prevented Taiwan's further diplomatic isolation, the relationship did little to enhance Taiwan's security or broader goals such as re-entry into the United Nations.
Lastly, China's actions to isolate Taiwan potentially come at a cost for China. Such efforts potentially fuel the growth of Taiwanese identity and independence sentiment, hampering Beijing's hopes for an eventual peaceful unification.
Timothy S. Rich is an assistant professor of political science at Western Kentucky University. His research focuses on public opinion and electoral politics in East Asian democracies.
Vasabjit Banerjee is an assistant professor of political science at Mississippi State University. His primary research interests are contentious politics and the local political-economies of state-formation in developing societies; specifically South Asia, Latin America, and Southern Africa.