Taiwan Loses Another Ally as Panama Embraces China
There have been hints of the coming shift for years, despite Taiwan's efforts.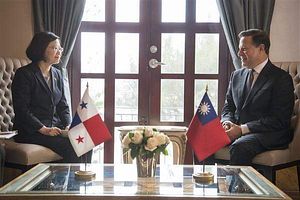 Taiwan has lost another diplomatic ally. On June 12, Panama's President Juan Carlos Varela announced during a televised speech that his country was establishing diplomatic relations with China – and severing ties with Taiwan. That brings the total number of countries that have official relations with the Republic of China government in Taipei to 20.
On Tuesday, Panamanian Vice President and Foreign Minister Isabel de Saint Malo de Alvarado and Chinese Foreign Minister Wang Yi signed a communique officially establishing the China-Panama relationship during a ceremony in Beijing. According to the Chinese Foreign Ministry, the communique included Panama's acknowledgement that there is only one China, represented by the People's Republic of China government, and that Taiwan is an inalienable part of China's territory.
Wang praised the establishment of diplomatic relations as a "historic moment" opening a "new chapter" for China-Panama relations. "President Varela and the Panamanian government have made an important political decision, completely in keeping with the Panamanian state's and Panamanian people's basic interests, with the tides of the times, and with the 'one China' pattern shaped by the international community," Wang said.
He added that the establishment of diplomatic relations opens "vast prospects" for future cooperation. Saint Malo, speaking alongside Wang, made it clear exactly what prospects Panama is interested in. She specifically said Panama hopes that the switch will lead to economic opportunities for the country, especially "exporting more goods from Panama to China."
The hope for economic benefits is a common theme among countries that switch diplomatic recognition from Taiwan to China; in addition to Panama, both Gambia and Sao Tome and Principe did so in 2016.
For its part, Taiwan's Foreign Ministry issued a statement saying it would close its embassy in Panama and "end all bilateral cooperation and aid programs" with its former partner. "The ROC government strongly condemns Panama's act, and reiterates that it will not engage in checkbook diplomacy with the Beijing authorities," the statement read.
In a speech responding to Panama's move, Taiwan's President Tsai Ing-wen called the decision "deeply regrettable." She added that her "national security team [had] prior knowledge of the situation and [made] every possible effort," but also emphasized Taiwan's "refusal to engage in a diplomatic bidding war" to maintain its allies.
Tsai also struck a defiant note, accusing China of having "challenged the cross-strait status quo" through "coercion and threats."
"On behalf of the 23 million people of Taiwan, I declare that we will never surrender to such intimidation," she said.
"China has continued to manipulate the 'one China' principle and pressure Taiwan's international space, threatening the rights of the Taiwanese people," Tsai added. "But it remains undeniable that the Republic of China is a sovereign country."
Cross-strait relations have been rocky since Tsai, whom Beijing believes harbors pro-independence sentiments, took office in May 2016. Since then, China has cut off official channels of contact with Taiwan and blocked Taipei from participating in a number of international events it had previously attended as an observer, including the 2016 International Civil Aviation Organization (ICAO) meeting, the 2017 World Health Assembly meeting, and the 2017 International Labor Conference. By doing so, Beijing hopes to force Tsai to publicly embrace the 1992 consensus upheld by her predecessor Ma Ying-jeou. The consensus holds that there is one China, but allows for Taipei and Beijing to differ on which government represents that one China. If Beijing cannot force Tsai to formally endorse the 1992 consensus, it apparently wants to pressure her government enough that voters lose faith in her Democratic Progressive Party.
Panama is an interesting case study in the cross-strait dynamics of Taiwan's international recognition. The Latin American country was rumored to want to switch diplomatic recognition to Beijing as far back as 2009; it was reportedly rebuffed because China wanted to avoid antagonizing new Taiwanese President Ma, who came to office promising to improve cross-strait ties. That foreshadowed an informal "diplomatic truce" under most of Ma's term, where Beijing refrained from encouraging Taiwan's diplomatic allies to switch recognition.
But that didn't wholly tamp down concerns about Panama's commitment to Taiwan. In 2014, Taiwan's then-Deputy Foreign Minister Simon Ko had to specifically rebuff rumors of an impending change in Taiwan-Panama relations in a report to the Legislative Yuan's Foreign and National Defense Committee. "Ko stated that as such, the diplomatic relationship between Taiwan and Panama is unlikely to alter without a major event as catalyst," China Post reported at the time, summarizing Ko's remarks.
In a more positive sign for Taiwan-Panama relations, Panama was the first stop abroad for Tsai after her inauguration. The new president attended a ceremony opening the newly expanded Panama Canal. Ironically, however, part of the ceremony involved watching a Chinese container ship pass through the upgraded canal locks – a reminder of the importance of Chinese commercial ties with Panama.
Yet just over six months ago, in December 2016, Panama's Deputy Foreign Minister Luis Miguel Hincapie told Reuters that all was well in the Taiwan-Panama relationship. "Relations with Taiwan are good, in excellent condition as always," he said. "They've been a cooperative partner of Panama for many years, and will continue to be so."
Half a year later, President Varela was instead telling his country that breaking off ties with Taiwan "is the correct path for our country."