Postcard From Seongju's Anti-THAAD Protest
A year after being chosen to host THAAD, protests in Seongju show little sign of ending.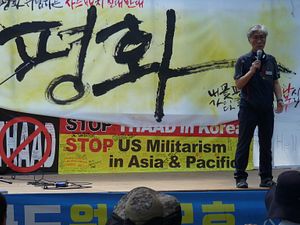 SEONGJU COUNTY, SOUTH KOREA — In late May, at the peak of harvest season, workers busily inspect and pack compact, yellow chamoe melons inside a farmer's warehouse in the remote central mountains of South Korea. Here Ryu Ji-yong, president of an organic melon farmer's cooperative, peels, cuts and offers a plate of his sweet fruit, but he has something else on his mind: missiles.
"The decision-making process was very problematic," Ryu says, explaining why many residents in Seongju county are staunchly opposed to the deployment of the Terminal High Altitude Area Defense (THAAD) anti-missile system to a nearby former golf course owned by LOTTE Co. Ltd.
In late April, THAAD was hurriedly deployed less than two weeks before South Korea's snap presidential election. The victor, Moon Jae-in, had earlier vowed to reconsider the controversial missile defense system described as "effective against all types of ballistic missile warheads."
But Ryu says the secretive, undemocratic nature of how his rural community became the unwilling host of the U.S. anti-missile battery is reminiscent of Park Geun-hye's other scandals. Park, South Korea's former president, was disgraced, impeached, and imprisoned after months of nationwide protests. She is currently on trial for charges including bribery, abuse of power, and leaking state secrets.
Seongju residents say the deployment of THAAD has been destructive to their community, pitting neighbors and family members against one another. In addition to stoking political tensions between Seoul, Beijing, Moscow, and Washington, the people of Seongju say they are paying the price for what they see as the undemocratic and unnecessary further militarization of a peninsula that was divided and fought over by outside nations.
THAAD's manufacturer, Lockheed-Martin, describes the system as capable of defending "U.S. troops, allied forces, population centers, and critical infrastructure," but declined to comment for this article. Pentagon spokesman Commander Gary Ross said THAAD "adds an important capability in a layered an effective missile defense against North Korean missile threats… capable of defending a larger area of South Korea… compared to other capabilities."
Ross added that "Seongju was assessed to be the most suitable [site] to achieve maximum operational effectiveness" and that THAAD "does not pose a threat to civilians and local communities."
U.S. Forces Korea did not respond to a request for comment.
David Santoro, director and senior fellow for nuclear policy at the Center for Strategic and International Studies said by email, "[THAAD] is primarily designed to protect U.S. forces in the region, but that equates to protecting South Korea… It's primarily, though not exclusively, about protecting the protector [U.S. forces] in the broader region, not just Korea."
Santoro says a crisis with North Korea would involve forces beyond South Korea and argues that protecting them is in South Korea's interest. He says the THAAD deployment is useful and thinks additional missile defense deployments may become necessary given the increasing sophistication of North Korea's arsenal.
In Seongju, however, Ryu, like many of his neighbors, believes THAAD will not protect his community from North Korean missiles and says there are environmental concerns about the powerful X-Band AN/TPY-2 radar used by THAAD.
Melon farmer Yoon Geum-soon says, "Even though [THAAD] is defensive, it can provoke war. So in that sense, it can be considered a weapon."
Seongju's local government, Ryu says, is deeply dependent on the South Korean central government and was pressured to accept the controversial system, a decision that has sparked almost a year of non-stop protests across South Korea.
When THAAD was first proposed for deployment in Seongju in July 2016, many local officials were against the plan and some even shaved their heads in protest alongside members of the community. After the South Korean Ministry of National Defense required the Seongju local government offer an alternative to the first proposed site, a golf course near the remote mountain village of Soseong-ri was offered and some politicians changed their stance.
Although it's only slightly larger than Indiana, South Korea has a population of 50 million, roughly 20 percent of whom live in Seoul. Many question the deployment of THAAD to Seongju county, which has a population of 46,000.
Bitter Memories
Many of Seongju's residents traditionally voted for conservatives like Park Geun-hye, who initially approved the THAAD deployment. Today those same residents are facing off against South Korean police and standing up to the U.S. Army.
Unlike other parts of South Korea, where demonstrations against military installations have carried on for years, Seongju residents were new to protesting when the THAAD deployment was announced. However, they soon proved themselves formidable opponents as they took to the streets with signs, shaved their heads in protest, and tussled with police.
Many of those living in Soseong-ri, the village closest to the THAAD site, are old enough to have experienced the 1950-53 Korean War (which has never formally ended). They're also old enough to remember the immense suffering caused by massacres and suppression by Korean military forces in collaboration with the U.S. military on Jeju island (1947-54) and in the Gwangju uprising (1980). Korean elders remember the role of the United States and are strongly opposed to increased militarization, especially when forced from the outside.
Protest by Candlelight
For the last 11 months, residents have held nightly candlelight vigils outside the Seongju County office. Lee Hye-gyeong, Kim Gyeong-sook, and Kim Hyun-sun, three local women, do their best to attend the demonstrations but say it's not easy to continue month after month.
They acknowledge that some Seongju residents have lost interest in the issue. Others have grown resigned to the government doing as it pleases and some do support the deployment. Others want to attend protests but can't make the time.
The evening vigils include anti-THAAD speeches but also dances and songs that are unexpectedly joyful, infusing the gatherings with positivity and hope in an attempt to restore the sense of community.
As a man strums a guitar and sings, volunteers move through the crowd passing out tteok, sweetened glutinous rice cakes. Residents sit on red plastic stools holding candles and signs, slurping half-frozen milkshakes in foil pouches as children ride bicycles and play.
Sitting cross-legged inside one of half a dozen tent-like structures erected at the protest site, the women say the vigil's upbeat mood creates a space where kids can participate, even if that just means being present. Still, they want their life back as it was before THAAD.
And they want Americans to understand what the U.S. government is doing. They say that Americans have never experienced a war at home the way Koreans have. "We know exactly what war is like. U.S. citizens have no idea how miserable it is," one of the women says.
They insist they don't hate Americans, but say people are starting to have anti-American sentiments and if the U.S. continues to pressure South Korea, these sentiments will grow.
Earlier, speaking in English, Seongju resident Moon Ik-hwan expressed a similar message: "The U.S. cannot do this because they are a stronger country. If they keep pressuring THAAD [on us], feelings for the Korea-U.S. alliance will change."
Unwelcome "Chinook Winds"
The following day Lee Hye-gyeong, who attended the candlelight vigil, drives to Soseong-ri to join an afternoon protest close to the THAAD site. The small village is an unlikely place to find dozens of large banners criticizing the U.S. military, including one with an unflattering depiction of the U.S. president. As chants of "We denounce the United States and their coercive deployment of THAAD" fill the air, a Chinook helicopter flies overhead carrying what appears to be a Humvee, avoiding protests along the lone narrow road leading to the deployment site.
Lee describes how residents have filed complaints with the local government about the noise from Chinooks flying over the valley up to ten times a day and at night too, rattling windows and rooftops while stirring up painful memories for village elders.
State of Solidarity
Seongju residents are not alone in their opposition to THAAD and receive support from activists and NGOs around South Korea. On the South Korean island of Jeju, where activists from across the country tried to stop the construction of a Korean naval port complex, daily protests continue and also include calls to reject THAAD.
Near the U.S. embassy in central Seoul, a protest tent stands emblazoned with anti-THAAD banners; the blue and white butterfly "No THAAD" symbol can be seen on stickers and badges around the country. On June 24, an estimated 3,000 protesters surrounded the U.S. embassy demanding the removal of THAAD.
Baek Gayoon of People's Solidarity for Participatory Democracy (PSPD), one of South Korea's largest NGOs, says THAAD cannot be separated from other military issues on the Korean peninsula.
She argues that deploying THAAD won't bring peace to the Korean Peninsula but instead perpetuates a cycle of endless war. "A more useful way, and a more fundamental way to solve this problem is through negotiation and dialogue — not buying weapons and creating tensions in the region," she says.
Baek believes that isolating North Korea and cutting off talks has only provided the opportunity for Pyongyang to further develop its capabilities.
"The relations between North Korea and South Korea have been very much used because if you want to get support, you need some common enemy. With that common enemy we can all bind together as one power. The South Korean government has been very clever in using North Korea as the sole enemy… and that justifies everything in terms of increasing [the] national defense budget."
Baek recognizes that much of the Korean public supports South Korea building up its own military in order to be less reliant on the United States for its defense but says ultimately negotiations with the North are the only option. According to the Stockholm International Peace Research Institute, in 2016 South Korea had the 10th largest military expenditure of any nation, after the U.K., Japan, and Germany.
Speaking in his Seoul office, World Without War's Lee Yong-suk says THAAD is South Korea's most urgent military issue now because it has not been completely deployed and once it is, it will be hard to remove. "We don't know what is the perfect solution," Lee said, "but we know what is a terrible solution — THAAD."
Earlier this month, President Moon Jae-in suspended the THAAD deployment and demanded an environmental assessment be completed after learning he had been denied information about the number of launchers deployed. It is almost certain that THAAD will be a central topic of discussion when Moon makes his first visit to the White House on June 29-30.
Meanwhile, the villagers of Soseong-ri and their supporters across South Korea are determined to stop THAAD.
Speaking on the sidelines of a recent demonstration was Park Seok-min of the Seoul-based Korean Confederation of Trade Unions. He says many of the elderly residents vow to oppose THAAD even if it costs them their lives.
Park, who frequently travels to Soseong-ri to support protesters, joins farmers as they march up the narrow mountain road holding large placards and showing no sign of letting up against THAAD. For these protesters, their demands are clear and their resolve is unshakable as their amplified voices echo like thunder through the once bucolic, steep mountain valley.
Jon Letman is a Hawaii-based independent journalist covering politics, people, and the environment in the Asia-Pacific region. He has written for Al Jazeera, Foreign Policy in Focus, Inter Press Service and others.