US Nuclear Sub Armed With Cruise Missiles Makes Port Call in South Korea
A U.S. nuclear-powered attack sub visited the city of Busan this week.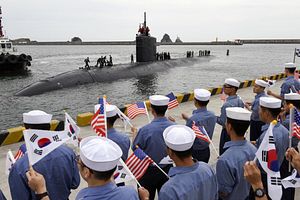 The U.S. Navy Los-Angeles-class attack submarine (SSN) USS Cheyenne made an official port call to the southeastern city of Busan, South Korea on June 6 in the latest display of Washington's might amid continuing tensions with North Korea over its ballistic missile program.
"We are honored to host the crew of USS Cheyenne for a much-deserved port visit. We [U.S. and ROK navies] routinely work shoulder to shoulder with one another and this port visit is an opportunity for Cheyenne sailors to enjoy Busan and explore the Korean culture," Rear Admiral Brad Cooper, the commander of U.S. Naval Forces Korea, said in a statement.
According to a military official interviewed by Yonhap News Agency, there are no plans for joint naval exercises and drills. In April, an Ohio-class guided missile submarine (SSGN), the USS Michigan, also made an official port call in Busan. Both submarines are capable of launching Tomahawk cruise missiles with a range of about 3,100 kilometers and Harpoon anti-ship missiles with a range of approximately 130 kilometers.
U.S. President Donald Trump created controversy in May when he revealed in a phone conversation with Philippine President Rodrigo Duterte that the U.S. Navy has been operating two nuclear-powered submarines in the waters off the Korean Peninsula. (The U.S. Navy does not publicly announce the movement of its submarines.)
It is likely that he was referring to the USS Cheyenne and USS Michigan during the phone conversation with the Philippine president. As I explained:
While the deployment of USS Michigan was publicly known prior to the phone call between the two presidents, it appears that the whereabouts of the USS Cheyenne were only made public a few days after the Duterte-Trump conversation.

By revealing to the Philippine president the presence of U.S. submarines off the Korean Peninsula, Trump did not disclose classified information. Nevertheless, it is a highly unorthodox move to alert a foreign leader to the deployment of submarines and it is bound to upset the U.S. fleet commander.
Furthermore, I added:
While Trump did not specify the exact location of the submarines, the mere mentioning of the exact number of subs in the area would theoretically have made it easier for North Korea to track the U.S. boats. According to most analysts, however, the Korean People's Navy does not possess an advanced anti-submarine warfare capability.
The U.S. Navy is currently operating 36 Los-Angeles-class SSNs. Three Los-Angeles-class subs will be decommissioned this year and will be replaced with Virginia-class nuclear attack submarines. The U.S. Navy plans to induct 48 Virginia-class SSNs.