What Did Narendra Modi's First Meeting With Donald Trump Reveal About US-India Ties?
U.S.-India relations show evidence of continuity into the Trump era. Will that last?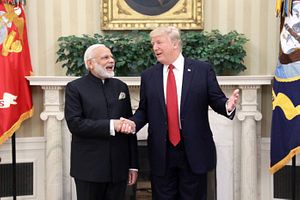 The Diplomat's Ankit Panda (@nktpnd) and Prashanth Parameswaran (@TheAsianist) discuss Indian Prime Minister Narendra Modi's first meeting with U.S. President Donald J. Trump and the state of U.S.-India relations. The podcast also preview South Korean President Moon Jae-in's first summit with Trump.
Click the arrow to the right to listen. If you're an iOS or Mac user, you can also subscribe to The Diplomat's Asia Geopolitics podcast on iTunes here. If you use Android, you can subscribe on TuneIn or on Google Play Music. If you like the podcast and have suggestions for content, please leave a review and rating on iTunes and TuneIn.