Bollywood Conquers China? Not Quite
Did the Bollywood hit Dangal really take China by storm?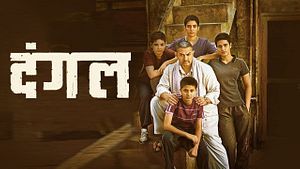 Released in December 2016, the Bollywood hit Dangal (दंगल) has performed surprisingly well in China. The family-oriented wrestling film featuring Aamir Kahn beat out Marvel's Guardians of the Galaxy Vol. 2 in the Chinese market. Apparently, even President Xi Jinping is a fan.
Should this film be seen as a sign of India's growing soft power vis-à-vis China? A writer for the South China Morning Post certainly believes so. Yet, the growing success of Indian films can equally be seen as a win for Chinese policymakers looking to maneuver in a multilateral world.
Specifically, China can leverage Bollywood as a counterweight and extract concessions from Hollywood during the upcoming U.S.–China film treaty renegotiations. Furthermore, like with Hollywood, the Chinese government's control of access to the market can sway Bollywood storytellers to more closely align with government policy, thereby blunting any messages the Chinese censors find objectionable. Taken together, the growing popularity of Indian films in China can strengthen the hand of the Chinese government as much as it serves as an foreign policy instrument in New Delhi's hand.
Dangal is not the first Indian film that Chinese audiences have reacted favorably to. Professor Ying Zhu, a New York-based expert on the Chinese film and media industry, explained that movies such as Caravan (1971), starring Jeetendra, and Raj Kapoor's Awaara (1951) proved major hits after being dubbed into Chinese, the former also resonating with Chinese audiences due to its portrayal of the rigidities of class.
"The Chinese are no strangers to Indian films," said Professor Zhu. "So I wouldn't call Dangal the start but a renewal of Chinese audiences' fascination with Indian films."
Nevertheless, the scale of Dangal's financial success was previously unheard of and comes at a time when Indian film is increasingly looking outside its traditional borders for revenue. The economics underlying this phenomenon are familiar to Hollywood watchers: as audience expectations grow globally, movies need to grow equally spectacularly.
To recoup larger outlays on special effects, the films, by necessity, must unlock additional markets and cultivate new audiences. China, with its large theater-going population, is one apparent solution to this problem. It is this sort of thinking that drove Eros International, a major Indian film studio, when it announced a slate of Indo-Chinese co-productions. (Eros co-produced Xuanzang, a biopic of a Tang Dynasty Buddhist monk who spent years in India studying Buddhism, and the Chinese government submitted the film as its choice for the 89th Academy Awards.)
At a symbolic level, seeing Indian financial success being made possible through closer integration with China boosts President Xi's foreign trade objectives. Supporters of the One Belt, One Road initiative — tepidly embraced by India — are likely encouraged by Dangal's success.
"This is a great soft power win-win situation, where it's possible for the Chinese president and Chinese audiences to support Indian culture but not in a way that really substantially undermines the growth of the Chinese film industry," said Professor Aynne Kokas, author of Hollywood Made in China.
More tangibly, the viability of Indian films in the Chinese market is welcome news for Chinese policymakers as they renegotiate a bilateral treaty between China and the United States that governs the terms by which American films can be shown in China. Besides setting the number of American films that can be legally shown, the agreement also stipulates revenue sharing and permits auditing of finances.
Much has changed economically and politically since the last time former Vice President Biden and President Xi agreed in principle to the earlier version of the treaty in 2012. While the Trump administration's negotiating position remains unclear, the presence of India, along with European entrants, affords China viable counterweights and the chance to drive a harder bargain with Hollywood.
"[India's presence] gives China more leverage, because it shows that there are more potential partners outside of the usual suspects," Professor Kokas added.
Yet, India should be cautious to claim victory over Dangal, since the balance of power in these interactions firmly tilts toward the Chinese government. Chinese film censorship often places restrictions on what filmmakers can and cannot show, and non-compliance shuts one out of this lucrative market.
"If Indian films grow to be dependent on the Chinese market, then Indian filmmakers would inevitably exercise caution in what pleases both Chinese censors and audiences," said Professor Zhu.
No matter how the relationship between the two Asian countries develops in the coming years, it seems unlikely that a heartfelt performance by Aamir Khan will reduce tensions along the Arunachal border. (The success of Awaara certainly did not stop the 1962 conflict.)  It is more likely that Chinese negotiators will immediately put Dangal's success to use as a bargaining chip when they face off against Hollywood.