Confirmed: Indonesia to Buy 11 Su-35 Fighter Jets From Russia
Indonesia's defense minister recently confirmed the purchase of 11 Russian-made fighter jets.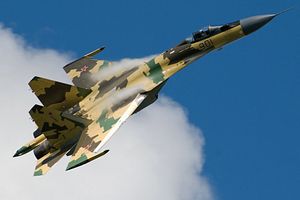 Following two years of protracted negotiations, Indonesian Defense Minister Ryamizard Ryacudu confirmed on July 26 that Indonesia will procure 11 Russian-made Su-35S 'Flanker-E' multirole fighter jets for the Indonesia Air Force (TNI-AU) with the first aircraft slated for delivery in 2018.
"There will be 11 planes. After two years, it was finally finalized," the minister told reporters last week. The defense minister's Su-35 statement follows the Indonesian Air Force's recent announcement of the beginning of the second phase of its 2014-2019 upgrade plan.
It remains unclear whether a Su-35 contract has already been signed by Moscow and Jakarta. The minister's announcement was preceded by media reports that Indonesia and Russia have finally agreed to an offset obligation program including technology transfers in early July.
Russia is expected to grant Indonesia a loan for the purchase of the military aircraft. The Indonesian defense ministry budgeted a total of $1.5 billion for the purchase of up to 16 new fighter jets. The defense minister neither revealed the price for the 11 Su-35s nor whether the contract contains an option to purchase five additional Su-35 fighter jets at a fixed price in the future.
In June, Russian officials were optimistic that a final contract would be signed by the end of 2017. "Prior consent has been reached on the contract to deliver Su-35 to Indonesia, it will be (signed) this year," Viktor Kladov, the director of Rostec's international cooperation and regional policy department told reporters last month. Moscow and Jakarta have been in negotiations over a possible aircraft deal since late 2015, as I explained elsewhere:
A joint military-technical cooperation commission began talks in late in November 2015 in Jakarta to discuss details of the contract, including technological transfers. (Indonesian law stipulates that at least 35 percent of the aircraft's technology needs to be transferred to the country as part of the defense deal.)
The Su-35 (NATO reporting name: Flanker-E) Fourth++ generation, highly maneuverable multirole fighter jets, powered by two 117S turbofan engines, and equipped with the Irbis-E passive-electronically scanned-array radar capable of tracking up to 30 targets simultaneously and purportedly able to engage up to eight.
The Su-35 is the latest variant of Russia's Flanker-series. The TNI-AU is already operating five Russian-made Su-27s and 11 Su-30 MK/MK2s.  The Su-35 will replace U.S.-made F5 E/F Tiger II jet fighter jets, which had been in service with the TNI-AU since the 1980s and were retired over the last years.
By 2018, Indonesia's Air Force is slated to induct ten more F-16A/Bs fighter jets in addition to the 14 currently in service purchased from the United States under a $750 million Excess Defense Articles (EDA) contract. Jakarta is also funding 20 percent of development cost for the Korea Aerospace Industries (KAI) KFX next-generation fighter.