Iran: Russian-made S-300 Air Defense Missile Systems Placed on 'Combat Duty'
The Iranian military has acknowledged that its new air defense missile systems are operational.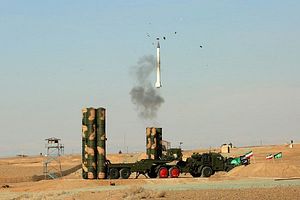 Iran's new S-300PMU-2 Favorite long-range surface-to-air missile (SAM) battalions have been placed on combat duty and are operational, commander of Khatam al-Anbia Air Defense Base, Brigadier General Farzad Esmaili, said in an interview with Tasnim News Agency on July 5.
"The S-300s have assumed combat duty and are operational," the general, who is in command of the Iranian Air Force's land-based air defenses, was quoted as saying. Contrary to Russian media reports, this marks the second time that a senior Iranian military officer has publicly acknowledged the operational readiness of the new S-300 battalions.
As I reported previously, Esmaili first declared the S-300 air defense system operational at the conclusion of a missile drill that simulated a ballistic missile attack in early March. During the exercise, a missile interceptor purportedly successfully destroyed an incoming target simulating a ballistic missile.
In August 2016, the Iran Air Defense Base allegedly deployed an unknown number of S-300 batteries around the Fordow nuclear site located 100 kilometers (60 miles) south of Tehran. "Our main priority is to protect Iran's nuclear facilities under any circumstances," Esmaili said at the time.
Delivery of the S-300 missile air defense system, an upgraded variant of the air defense system initially ordered by Iran in 2010 for an estimated $800 million, began in April 2016 and was completed in October of the same year. The precise number of transporter erector launchers (TEL) delivered by Russia to Iran remains unknown. Estimates range from 40 to 60 TELs. Each TEL is capable of carrying up to four missiles.
As I repeatedly pointed out, it also remains unclear what missile types Russia has sold to Iran for the air defense systems:
Next to a number of shorter range missiles, the S-300 batteries are usually armed with the 48N6E, a vertical tube launched, solid fuel, single stage SAM with an estimated range of 150 kilometers (93 miles). The S-300 air defense systems could also be equipped with an upgraded variant of the 48N6E (…)

In comparison to the S-300-PMU1 system, the upgraded PMU2 variant can engage both short-range ballistic missiles as well as medium-range tactical ballistic missiles.  With the new 48N6E2 missile, the effective range of the SAM complex extends to about 195 kilometers (121 miles). (…) Some analysts believe that the 48N6E2 missile is compatible with older S-300 SAM systems.
Last week, Esmaili also told reporters that Iran's indigenous Bavar-373 missile system will be tested by the end of the current Iranian year (which ends March 20, 2018). The general noted that the Bavar-373 "is stronger than the S-300."