Tomomi Inada, Japan's Defense Minister, Resigns Following Weeks of Scandal
Tomomi Inada leaves office days shy of completing a one-year term.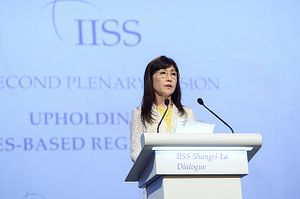 On Friday, Japan's defense minister, Tomomi Inada, announced her resignation, taking responsibility for a recent scandal involving the cover-up of the circumstances Japan's Self-Defense Force (SDF) endured in South Sudan.
Under Inada's leadership, the Japanese Ministry of Defense was found to have misled lawmakers over the SDF's role in a United Nations peacekeeping mission in South Sudan by obscuring daily activity logs.
Japanese Prime Minister Shinzo Abe, whose own popularity has seen decline in recent months, accepted Inada's resignation "regretfully."
Abe explained that Fumio Kishida, Japan's foreign minister, will take over the defense ministry before another permanent defense minister is appointed and apologized for the scandal as well.
Inada steps down as defense minister just a few days shy of completing a one-year term.
At the time of her appointment last year, her elevation to the post was regarded as potential grooming for an eventual attempt at the Liberal Democratic Party's (LDP) leadership and, eventually, the prime minister's office.
Japan has never had a woman prime minister and Inada's name was commonly mentioned as a possible first.
Inada's short term as defense minister tested her reputation as a hawkish figure in Japanese politics. At the time of her elevation to defense minister, she was regarded with skepticism in China and South Korea for her revisionist views of Japan's wartime history.
She was criticized last December for visiting Tokyo's controversial Yasukuni Shrine, where multiple Class-A war criminals are enshrined.
More recently, in the lead-up to the Tokyo metropolitan elections earlier this summer, Inada courted severe criticism for what was seen as the politicization of the SDF by implying its support for the LDP, a violation of Japan's Self-Defense Forces Act. The South Sudan scandal, in the end, forced her resignation.
Abe is expected to reshuffle his cabinet next week to arrest his quickly falling approval ratings amid multiple scandals and a recent poor electoral result for the LDP in the Tokyo metropolitan elections.
Inada was seen as a personal protégé of Abe's and her involvement in the South Sudan scandal has intensified public scrutiny of his leadership.
A separate scandal involving the prime minister concerns potentially corrupt dealings related to Kake Gakuen, a university.
Abe, who began his current term as prime minister in December 2012, testified before the Japanese Diet earlier this week on the scandal, but remains vulnerable to challenges from within his party.