US Navy Destroyer Conducts Freedom of Navigation Operation Near China-Held Island
Just 39 days after a first operation, the Trump administration authorizes a second FONOP in the South China Sea.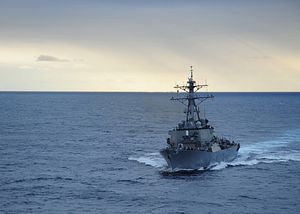 On Sunday, a U.S. Navy Arleigh Burke-class destroyer, USS Stethem, sailed within 12 nautical miles of a China-occupied island in the South China Sea. Specifically, the U.S. Navy destroyer sailed near Triton Island, a China-held island in the disputed Paracel group, also claimed by Taiwan and Vietnam.
Sunday's operation marks the second freedom of navigation operation (FONOP) by the Trump administration since the late-May operation by USS Dewey near Mischief Reef, which is one of China's seven artificial islands in the Spratly Group.
According to reports, USS Stethem sailed within 12 nautical miles of Triton Island on Sunday. Though the U.S. Navy has not released any official details regarding what excessive maritime claims the operation sought to challenge, there is precedent for an operation at Triton Island.
The United States previously conducted a FONOP near Triton Island in January 2016, when USS Curtis Wilbur challenged China's prior notification requirements by conducting an innocent passage around the feature.
The Paracel Islands present a different case from the Spratlys because China has long maintained illegal straight baselines around its features. It has additionally occupied the Paracel features since the 1970s.
Beijing's occupation of features in the Spratlys is more recent and its development of large-scale artificial islands there began in late-2013.
Sunday's operation will may draw extra scrutiny given a series of other actions taken by the Trump administration in recent days that may be suggestive of a change in approach by the United States to the U.S.-China relations.
As I discussed on Friday, the Trump administration announced a new arms package for Taiwan, slapped a Chinese bank with sanctions for working with North Korea, and had earlier downgraded China's standing in a human trafficking report released by the U.S. Department of State.
These developments, combined with the unusually short interval of just 39 days between the Dewey operation and the Stethem operation, are suggestive of the United States carrying out the operation to seek leverage over China potentially with regard to North Korea — especially ahead of a scheduled phone call between Donald Trump and Xi Jinping on Sunday evening.
The U.S. Navy's FON program, however, is a legal signaling tool and not designed to either deter or coerce claimants — in the South China Sea and elsewhere.
The U.S. Navy claims that the freedom of navigation program in the South China Sea does not single out China's claims and challenges excessive claims by other claimants, including Taiwan, the Philippines, Vietnam, Brunei, and Malaysia.