Are Geopolitical Realities Hindering Trump's Scrutiny of Chinese Trade Practices?
When will the Trump administration make a move on China's trade practices?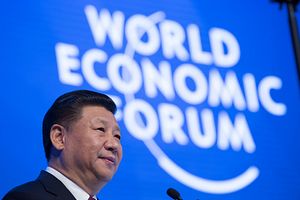 As of last week, it looked as if the Trump administration was finally signaling an intention to move against China on trade. Several outlets reported that the USTR (Office of the U.S. Trade Representative) would shortly begin a Section 301 review of Chinese trade practices, which could potentially lead to sanctions, fees, and tariffs against an array of Chinese goods and businesses.
We can expect that intellectual property protection will be at the top of the agenda for investigators. President Trump has complained about Chinese IP theft since the campaign, a complaint which has found relatively fertile ground even among American free-traders. And unlike steel and low-cost manufactured goods, strong measures on IP protection probably won't alienate key constituencies within the United States. The strong rhetoric of the Trump administration on trade with China has, thus far, run into quiet but serious opposition from U.S. retailers and industrial groups. Trade with a China is an area in which Trump's electoral coalition is at war with itself.
As Jason Zukus has argued, the news on IP isn't all bad. The U.S. and China can still find common ground on IP, if not on other trade-related issues. But success on this depends on whether the Trump administration (and Congress) intend to approach trade questions from a policy or a political point of view. If the former, then there are clear points on which the U.S. can take steps to improve Chinese behavior, potentially in concert with specific business and industrial communities in China. If the latter, then the point is simply to punish China in full view of a domestic audience.
Geopolitics may also have gotten in the way of a confrontation. Seth Weinberger suggests that the timing of the UN sanctions may be connected to the proposed investigation; it is possible that the Trump administration backed off of criticizing China in order to get tougher sanctions against North Korea. Although the investigation into China's IP and trade practices is expected to move forward, a major public unveiling was delayed. Stephen Haggard also suggests that Chinese concern over sanctions may have played a role in the timing of the North Korea resolution.
But Beijing and Washington (probably) can't count on North Korea staying in the way forever. Eventually, the Trump administration will need to make some moves on China; "tough on China" is one of the very few issues that enjoys bipartisan consensus. Indeed, even if Trump can U.S.e trade to lever some long-term Chinese concessions on North Korea, he will still face significant domestic criticism within the U.S..