Bollywood Meets Nepali Nationalism
In Kathmandu, a fan club has drawn critique for idolizing an Indian actor. Why?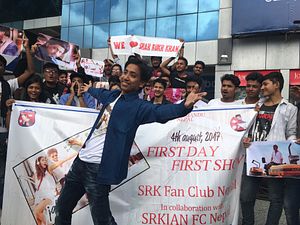 On a recent morning, the Shahrukh Khan Fan Club Nepal gathered outside Civil Mall, a glitzy glass-fronted building in central Kathmandu. By 7:30 AM, a large crowd of perhaps a hundred people had appeared, bearing posters of the Bollywood hero and signs declaring "We Love SRK," the actor's initials. Most in the crowd were students (it was, after all, a work day), male, and in their teenage years or early 20s. They had come to see the Nepal premier of Jab Harry Met Sejal, a romantic comedy set in Europe starring Khan and the actress Anushka Sharma.
Lingering near the edge of the crowd, three science students, Anoj Adhikari, Biplab KC, and Mahesh Chapagain, discussed Shahrukh Khan's best attributes.
"His looks, and his facial expressions," offered Mahesh.
"His acting," said Biplab.
"His style, his romance. He's the best actor in the world – you can Google it," added Anoj, laughing.
The crowd coalesced behind a banner for the fan club, and individuals posed for selfies. Robin Dahal, 24, an organizer of the event, stood at the forefront with a wide smile. Stretching out his arms and tilting back his head, he struck a classic SRK dance pose. "We love SRK!" the crowd boomed.
A security guard approached, calling for the group to quiet down. People moved into the building and crammed into elevators to the cinema on the top floor.
The SRK Fan Club Nepal was founded several months ago by a core group of supporters who met online and have since become close friends. Though based in Kathmandu, they hail from across the country and represent a variety of caste and ethnic groups – Brahmin, Newar, Chhetri, Tamang, Muslim. The group has promoted the latest film through the sale of t-shirts and hall tickets – including 106 for the early-morning premiere. They also plan to engage in social work, and so far have held two campaigns – one for victims of the recent flooding in Nepal's southern plains and the other to support an elderly homeless woman.
"We take Shahrukh Khan as an inspiration," explains Dahal. "We don't just watch his movies- we follow him. We try to study like him, and respect women like does."
"We want to give something to society in Shahrukh Khan's name," says Aziz Khan, 21, another core member.
But the club has detractors.
A number of critical comments have appeared on the club's Facebook page, some of them from fans of SRK's Bollywood rival Salman Khan, but others anti-Indian in character.
One angry commenter wrote, "I'm a fan of my own Nepali hero Nischal Basnet [a popular director in Nepal], you guys are fans of that dhoti [derogatory term for Indians]," punctuated by several middle-finger emojis. Similarly, when the club ordered custom t-shirts, the manufacturer told them disparagingly to make t-shirts for a Nepali icon like singer Narayan Gopal instead, according to Dahal.
Animosity towards Indian celebrities is not new in Nepal.  In 2000, after the Indian actor Hritik Roshan allegedly made disparaging remarks about Nepalis, the streets of Kathmandu erupted in rioting and four people were killed.
But the divided feelings over Shahrukh Khan – who has not been accused of belittling Nepal – illustrate an important aspect of current public mood in Kathmandu. As Chinese Vice Premier Wang Yang departs from a recent visit to Kathmandu and Nepali Prime Minister Sher Bahadur Deuba embarks on a five-day trip to Delhi on August 23, Nepal seeks to define its relationships with its two giant neighbors. In the ongoing India-China standoff over the Doklam plateau, the Nepali government has retained its traditional neutrality, as it did in the 1962 India-China war.  But among the Nepali public, India is a favorite antagonist, whereas China is often regarded as a useful counterweight to India.
Part of the reason for resentment of India has to do with past border disputes. Although Nepal has had disagreements with China over their border – including at Mount Everest and in Mustang District – all significant disputes were resolved in a 1961 treaty. By contrast, border disputes have been ongoing with India over border-pillars washed away by floods or purposely moved, and over the Lipulekh pass in Nepal's far west, at the tri-junction between Nepal, China, and India. In 2015, China and India reached an agreement regarding Lipulekh without the Nepalis' participation, which angered Kathmandu.  As the Nepali political analyst CK Lal has observed, fearmongers about border encroachment in Nepal often reference Sikkim, which India annexed in 1975, rather than Tibet, which China annexed in 1950.
Another important factor in Kathmandu's resentment of India has been the latter's opposition to Nepal's new constitution, promulgated in 2015. The new constitution faced internal opposition from a significant minority of Nepalis, primarily Madhesis, a marginalized group that consists of various castes who live in the southern plains and share cultural ties with India. After the constitution was passed, the southern plains erupted in protest with Madhesis demanding amendments to ensure a more equal balance of power with hill and mountain-based groups. Narendra Modi's government in Delhi supported the Madhesi protesters by imposing an unofficial blockade of vital imports for nearly five months in 2015-16, crippling Kathmandu and the rest of the country, which was (and is) still recovering from the April and May 2015 earthquakes. Though the blockade eventually fizzled and Delhi later advised Madhesi leaders to call off a boycott of upcoming elections, the blockade remains a serious grievance.
More generally, many Nepalis resent what they see as a long history of Indian intervention in domestic politics. India has played a major role in shaping Nepali democratic upheavals in 1950, 1990, and 2006. In 1950, India hosted and shaped talks between the dying Rana regime, the monarchy, and democratic politicians, ushering in a decade-long period of democracy. India maintained military advisers in Nepal and technicians at Nepal-China border check-posts until they were asked to leave in 1970. In 1989-90, an Indian blockade contributed to a democratic movement to restore constitutional monarchy, ending a period of monarchical control that had begun in 1960. In 2005-6, Delhi supported a rapprochement between then-rebel Maoists and mainstream democratic parties, putting in motion a popular movement that led to the abolition of the monarchy. In between these upheavals, India has been accused of manipulating Nepali politics to its own benefit. Many have charged India with unfairness in treaties to develop irrigation and hydropower on Nepal's rivers, such as the Koshi and Gandak treaties in the 1950s and the 1996 Mahakali treaty, which has not been implemented due to controversy. In his book Foreign Policy of Nepal, Indian political scientist and former diplomat SD Muni has acknowledged that Indian actions after the 2006 people's movement helped delay constitution drafting.
Nepali politicians, especially those on the far left and far right, have often decried Indian interventionism over the decades. In his book Nepal: Strategy for Survival, the historian Leo Rose notes that a communist group held an "Anti-Indian Interference Day" as early as 1953. At the same time, politicians across the spectrum have accepted Indian support when they have seen it as useful in advancing their own positions vis-a-vis domestic rivals, thus helping perpetuate the cycle.
Recently, Nepal's three major political parties — Nepali Congress, the United Marxist Leninist party, and the Maoists — have jockeyed to bolster their credentials against Indian interference. In response to the 2015-16 blockade, the UML's then-Prime Minister Khadga Prasad Oli signed a Trade and Transit Treaty with Beijing, aimed at opening trade with the outside world through China. Under a Maoist-Congress coalition government, Nepal conducted its first joint military exercise with China in April,  signed onto China's Belt and Road Initiative in May, and ended a special Indian Embassy-managed grants program in August. Although the long-term impact of the Belt and Road Initiative in Nepal remains to be seen, China has proposed an $8 billion rail link with Nepal, which would represent a massive increase over current aid. On his recent visit to Nepal, Vice Premier Wang pledged $1m for relief from the floods.
In recent years, Chinese aid to Nepal has been roughly on par with India's. In 2015/16, India disbursed roughly $35.8m, whereas China disbursed roughly $35.4m. Though India pledged $1bn for Nepal's earthquake relief, it has been delayed in disbursing these funds – a topic on the agenda for the Nepali PM's current visit to Delhi. China disbursed over $10m for earthquake reconstruction in 2015-16. (However, both China's and India's aid contributions are much smaller than multilateral donors like the World Bank, Asian Development Bank, and the UN, and even other bilateral donors such as the US, UK, Japan, and Switzerland.)
But despite moves to align more with China politically, people-to-people ties remain much stronger with Nepal's southern neighbor. This is exemplified by the popularity of Indian films — both Bollywood and South Indian — whereas Chinese films are rarely shown in Kathmandu.
"It's not that we don't like Indian people, it's the government we don't like," said Anoj Adhikari at the SRK rally. "They always interfere in our own matters. But the citizens aren't bad — they are good."
One participant at the rally, a young woman who identified herself only as "a die-hard fan," said, "There are lots of people like me who are fans of Indian actors and actresses. People say, 'back-off India,' but I don't think this is a good idea, because India is our neighbor-country and we need to resolve our differences and move forward together."
A major reason for Nepal's strong people-to-people relations with India has been the open border between the two countries, which allows citizens to cross the border without a passport.  In addition, a 1950 Peace and Friendship Treaty allows each country's citizens' to easily work and own property in the other. It is estimated that over a million Nepalis work in India, and many Indians also do business in Nepal. In addition, according to a long-standing tradition that began during the British colonial period, seven Gurkha regiments in the Indian army recruit soldiers from Nepal's hills and mountains. The salaries and pensions of Indian Gurkhas are vital to many hill communities' economies. In fact, Nepali Gurkha troops were deployed in the 1962 Indian war with China.
Finally, Nepal remains heavily dependent on India for trade. In 2016, 66 percent of Nepal's imports came from India and 57 percent of its exports went to India, as compared to just 14 percent and 3 percent from and to China.  And despite the signing of the Trade and Transit Treaty with China, the vast majority of Nepal's trade with third countries depends on transit through India to ports in Calcutta and Andhra Pradesh (even most trade with China goes through these ports).
In this context, the SRK fan club's core members have reacted to anti-Indian criticism cautiously.
"We try to ignore the comments," says Aziz Khan. "It's not that we dislike Nepali films. When there are good ones, we go to them too."
The fan club's Facebook page features a photoshopped image of Shahrukh Khan standing in front of a map of Nepal and the Nepali flag. Chiranjevee Gaire, 24, who maintains the page, explains, "We wanted to show Shahrukh Khan from a different style. I thought, why should everyone think of Shahrukh Khan as Indian? We're a Nepali fan club, so we wanted to make it look Nepali."
He adds, "We need to recognize all of our humanity. We can't just fight for our own village, for our own state, for our own ethnicity, for our own country. We all need to learn to live together."
After the film finished, the core members of the fan club gathered at a coffee shop to discuss what they had seen  In general, they agreed it was a good film, although perhaps not one of Khan's best.
Did they think it was time for their hero — who is now 51 — to stop taking youthful, romantic roles? (His love interest in the film, Anushka Sharma, is 29).
Aziz Khan didn't think so, necessarily.  "He can still do romance."
Chiranjibi Gaire noted that the actor has begun to branch out into action.  ""I'm ready for him to do an army-type film," he said.
Peter Gill is an American journalist based in Nepal.  He tweets at @pitaarji