India's Air Force Interested in 36 More Rafale Fighter Jets From France
The Indian Air Force is strongly lobbying for additional Dassault Rafale fighter jets.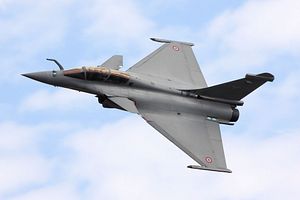 The Indian Air Force (IAF) is interested in placing a follow-up order for 36 additional fourth-generation Dassault Rafale multirole fighter jets, according to Indian Ministry of Defense (MoD) sources.
The Indian government and French aircraft maker Dassault Aviation signed a 7.87 billion euros agreement for the sale of 36 Rafale fighter jets in September 2016, following four years of protracted negotiations. Delivery of the Rafale fighter jets is expected to begin in November 2019 and will likely be completed in the middle of 2022.
Sources have now revealed to The Times of India that the IAF has made "some presentations" on the operational need for an additional 36 Rafale fighter jets arguing that a follow-up order would just cost around 60 percent of the original acquisition and induction price.
The IAFs first Rafale fighter jet squadron will be based in West Bengal, whereas the second squadron is slated to be based in Haryana.  Both IAF bases will be able to accommodate an additional squadron of 18 aircraft each. "This will cut down the induction costs of the 36 additional fighters," IAF sources said.
The twin-engine, canard delta wing, multirole fighter aircraft can be armed with nuclear weapons and will be part of India's nuclear triad. According to the IAF, the Rafale fighters, armed with Meteor air-to-air missiles, Scalp air-to-ground missiles, and possibly the air launched variant of the BrahMos cruise missile, will be "a huge deterrent" vis-à-vis China and Pakistan.
The IAF presentation reportedly also emphasizes that the Rafale will be cheaper than the Sukhoi/HAL Fifth Generation Fighter Aircraft (FGFA), known in India as the Perspective Multirole Fighter (PMF) currently under development. In 2010, India and Russia began work on a next-generation joint stealth fighter; however, work on the program has stalled for numerous reasons including the inability to reach a work sharing agreement.
The IAF purportedly needs to add 200 to 250 new aircraft in the medium-weight fighter jet category to maintain its edge over China and Pakistan. The IAF currently fields 33 fighter squadrons each at various degrees of operational readiness. However, that number is supposed to increase to 42 by 2027. "The number of squadrons is based on a hypothetical joint threat from China and Pakistan," I explained. "The IAF will need at least six additional squadrons of medium multi-role combat aircraft."
Senior IAF officers have repeatedly pushed for the induction of additional Rafale fighter jets. In a December 2016 interview, then head of the IAF, Air Chief Marshall Arup Raha, said that the Rafale is "tremendously capable in all its role. It is a multi­role aircraft and can be used very effectively. It can prove its worth in any situation." Nevertheless, "we have just ordered 36 aircraft and we require more aircraft in this middle weight category to give entire spectrum of capability." The naval version of the Dassault Rafale fighter jet could also be of interest to the Indian Navy.