Russia: Strategic Bomber Upgrade 'Top Priority'
Russia's Ministry of Defense continues to emphasize the upgrade of its strategic bomber force.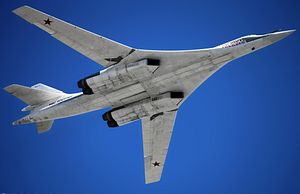 The Russian Ministry of Defense will continue to prioritize upgrading its strategic bomber force, Russian Defense Minister Sergei Shoigu said during a conference call with reporters on August 4, TASS news agency reports.
"We'll continue discussing today how tasks are being solved to develop the fleet of Tu-160 and Tu-95MS strategic bombers. These planes are an important component of the country's nuclear potential," the defense minister said.
"That is why extending the service life of the missile carriers and raising their combat efficiency are among our priority tasks," Shoigu added. "Now the public joint-stock company Tupolev is carrying out modernization of the planes jointly with other industrial enterprises and also repairing aviation engines, onboard equipment and reproducing new units and assemblies."
The Tu-160 supersonic strategic bomber is an upgraded version of the older Tu-160 heavy strategic bomber, which in 1987 became the last strategic bomber to enter service prior to the collapse of the Soviet Union. The Russian Air Force currently operates 16 Tu-160s. However, around 50 percent are not airworthy and remain grounded.
In 2015, Russian President Vladimir Putin announced his intention to upgrade Russia's fleet of Tu-160s due to delays in the next-generation strategic stealth bomber project, dubbed PAK DA (an acronym for "Prospective Aviation Complex for Long-Range Aviation").
The upgraded Tu-160s, dubbed Tu-160M2s, will reportedly be an entire new aircraft aside from the airframe, according to Russian defense officials. As I explained previously:
The bomber will presumably be fitted with new avionics, sensors, displays, and communications systems, as well as new operating software, although Russia has not revealed any specific details about the upgrades save for the aircraft's engines.

(…)

Given the bomber's limited stealth capability, it will presumably be armed with long-range standoff cruise missiles such as the Kh-101/Kh-102 (nuclear variant) air-launched cruise missile with an estimated range of 2,700 to 5,000 kilometers. The Tu-160M2 will likely carry the missiles internally on a rotary launcher.
Russia intends to induct up to up to 50 new Tu-160M2s at a rate of three aircraft per year beginning in 2020.
The Tupolev Tu-95MS is an improved variant of the older Soviet-era Tu-95, which first entered service in 1956. The four-engine, long-range, turboprop, strategic bomber can be armed with a wide range of weapons including stand-off cruise missiles. Russia plans to field 20 Tu-95MSs by the end of 2016. The upgraded aircraft, along with the Tu-22M3 long-range bomber, will form the core of a new Russian heavy bomber division in Russia's Far East to conducts patrol Pacific Ocean inside the Japan-Hawaii-Guam triangle.