US, South Korea Begin Ulchi-Freedom Guardian 2017 Military Exercises Amid Threats From North Korea
The United States and South Korea will simulate a range of military scenarios and operations.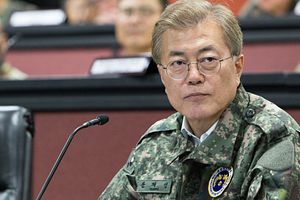 The United States and South Korean Combined Forces Command (CFC) began the 2017 iteration of the annual Ulchi-Freedom Guardian computerized command post military exercises on Monday. The exercises are the first large-scale U.S.-South Korea military drills since North Korea's first-ever tests of an intercontinental-range ballistic missile (ICBM) in July.
Top U.S. military leaders arrived in South Korea early on Monday ahead of the start of the exercises, which do not involve large-scale field maneuvers like the springtime Key Resolve and Foal Eagle exercises, but instead focus on war games.
U.S. Pacific Command head Adm. Harry Harris, Gen. John Hyten, commander of U.S. Strategic Command, and Lt. Gen. Samuel Greaves of the U.S. Missile Defense Agency arrived in Seoul to mark the start of the exercises.
Harris, Hyten, and Greaves will observe the exercises this year amid heightened tensions with North Korea. Earlier in August, Pyongyang had called for the United States and South Korea to reduce the scope of the exercises — a common request from North Korea, which sees large-scale military drills by the allies as a preparation for preemptive war.
Though the specific details of the kinds of scenarios that are simulated during Ulchi-Freedom Guardian are a closely guarded secret, this year, the alliance is likely to run through a full gamut of potential wartime scenarios on the Peninsula, ranging from operational procedures for a combined preemptive offensive against North Korea and defensive operations against a North Korean invasion.
One South Korean defense official told the Chosun Ilbo that this year's exercise would, for the first time, include "a nuclear war game for the first time." No other details were given, but it is not likely that South Korea, under the relatively restrained government liberal President Moon Jae-in, will have assented to simulating offensive nuclear counterforce operations.
Instead, if nuclear war games are a component of this exercise, they may focus on counter-weapons-of-mass-destructions (CWMD) operations and sustaining allied maneuvers in the aftermath of a North Korean nuclear attack against core U.S.-South Korea command-and-control nodes. Another possibility is that the exercises may simulate conventional counterforce operations by the United States and South Korea against North Korean nuclear-capable launchers — a core operation for any preemptive war.
Direct observation of parts of the exercises this year by Hyten and Greaves may also suggest an expanded nuclear warfare component. U.S. Strategic Command, which Hyten oversees, controls so-called "strategic" nuclear assets, including U.S. nuclear bombers, ballistic missile submarines, and land-based ICBMs.
This year's Ulchi-Freedom Guardian drill is also the first to take place since the U.S.-operated Terminal High Altitude Area Defense (THAAD) system in Seongju county became operational. Lt. Gen. Greaves' presence may suggest that THAAD may be an actively simulated asset in this year's operation. THAAD is designed to defend roughly the lower half of South Korea from attacks by short-, medium-, and intermediate-range ballistic missiles.
While the Ulchi-Freedom Guardian exercises are primarily computerized simulations, thousands of troops normally participate. This year's exercise is slightly smaller than last year's, with 17,500 U.S. troops participating, according to U.S. Forces Korea. 14,500 of these troops are permanently based on the Peninsula, with 3,000 being shuttled in from the U.S. mainland.
U.S. Defense Secretary Jim Mattis, speaking on Sunday, noted that the reduced numbers are not an attempt to placate North Korean requests for modifications to the drillls.
"The numbers are by design to achieve the exercise objectives and you always pick what you want to emphasize," he told reporters. "Right now there is a heavy emphasis on command post operations, so the integration of all the different efforts."
Meanwhile, on the South Korean side, more than 50,000 troops and nearly half-a-million bureaucrats and other civilians will participate in some way in the exercises.