What the US Knew About North Korea's Second ICBM Launch Before It Happened
U.S. military intelligence observed North Korea's preparation for a second ICBM test from Mupyong-ni.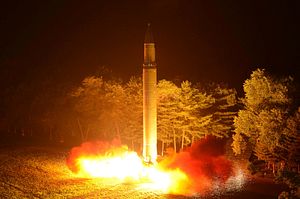 The United States had anticipated North Korea's July 28 test launch of the Hwasong-14/KN20 intercontinental ballistic missile (ICBM) from Mupyong-ni and also detected the launch pad used that day, The Diplomat has learned.
According to a U.S. government source with knowledge of North Korea's weapons programs who spoke to The Diplomat, the United States had been watching the site "for weeks and saw some of the preparations in the 24 hours preceding launch."
The source added that confidence about an imminent launch on July 28 was high by about "four hours prior to launch." This assessment was also partly based on North Korea's set-up of a VIP viewing area near the launch site for Kim Jong-un and other senior regime officials.
A "Surprise Attack"?
The July 28 launch of the Hwasong-14 ICBM was different from the July 4 launch, which was the first-ever of an intercontinental-range missile by North Korea, in two important ways. The first was that North Korea successfully demonstrated much greater performance and theoretical range given the observed trajectory.
The second was that North Korea carried out the launch at nighttime and in conditions likely meant to simulate operational use. A report on the launch carried by North Korea's state-run Korean Central News Agency (KCNA) noted that it demonstrated "the capability of making surprise launch of ICBM in any region and place any time."
If the United States was indeed able to successfully detect activity prior to launch, North Korea's claim of being able to carry out a surprise launch was overstated.
Nevertheless, North Korea is clearly concerned with the survivability of its ICBMs, fearing possible preemption by the United States and South Korea.
One observable change that supports this is that the July 28 launch features a much smaller paved launch pad area, this time only for the Hwasong-14's firing table.
The July 4 test included a much larger paved area that accommodated the entire transporter-erector and the firing table. However, despite this reduction in size, a U.S. government source noted that the Mupyong-ni launch site was previously known.
Ultimately, the current configuration of the Hwasong-14 and pre-launch procedures demonstrated so far leave vulnerabilities that could allow for a preemptive window for the United States, South Korea, and Japan.
North Korea could look to address these vulnerabilities in the future by streamlining its launch preparation processes or by eventually iterating its ICBMs past the road-mobile, liquid-fueled Hwasong-14 to a canister-based solid-fuel version.
North Korea currently has one land-based, solid-fuel missile in its arsenal, the Pukkuksong-2/KN15 medium-range ballistic missile. Its Pukkuksong-1/KN11 submarine-launched ballistic missile transitioned to a solid fuel design in 2016.
The Mupyong-ni Arms Factory
As The Diplomat reported last week, a second Hwasong-14 ICBM launch was already anticipated ahead of July 27, which is celebrated as "Victory Day" in North Korea, commemorating the end of the Korean War.
In mid-July, U.S. military intelligence had detected a Hwasong-14 transporter-erector (TE) and firing-table transporter arriving in Kusong, near the site of July 4 launch.
However, the July 28 launch did not take place out of Kusong and it is unclear if the Hwasong-14 transporter-erector seen in Kusong was the same one involved the eventual launch. The launch site near Mupyong-ni, slightly northwest of Jonchon in North Korea's Chagang province, is approximately 125 kilometers from Kusong.
It would appear highly unlikely that North Korea moved a Hwasong-14 from Kusong to Mupyong-ni just for a launch. While the use of Mupyong-ni is a first for any North Korean ballistic missile launch activity, it is not an unknown site for weapons manufacturing activity.
In 2014, a team of open source researchers, including Jeffrey Lewis, Melissa Hanham, and Amber Lee, were able to locate two sites that are suspected to have been involved in manufacturing transporter-erector-launchers for North Korea's older Hwasong-13/KN08 ICBMs.
By coincidence, a set of images released by North Korea in a July 2017 concert for the engineers, scientists, and Korean People's Army officers involved with the Hwasong-14 ICBM showed evidence of a KN08 TEL prototype inside one of those buildings, confirming the 2014 assessment. One image showed late leader Kim Jong-il standing in the building, which is just 150 feet from the July 28 launch site.
One of those sites (the site referred to as Site B by the researchers) is immediately adjacent to the July 28 launch site, suggesting that the Hwasong-14 TE and the firing table were likely engineered nearby and moved into position for launch. (Dave Schmerler at the James Martin Center for Nonproliferation Studies was the first to geolocate the July 28 Hwasong-14 launch site.)
Despite earlier reports of Hwasong-14 TE movement near Kusong, then, it is possible that the TE and firing table used in the July 28 test were kept indoors in the nearby building until directly before launch. A source confirmed to The Diplomat that the site in question is called the Mupyong-ni Arms Factory by the United States.
Basing Changes Ahead
Survivability concerns will likely continue to drive North Korea's operationalization of its ICBMs. North Korea already maintains a diverse network of underground facilities that could be used to base missiles prior to launch.
For example, imagery released during the mid-July concert following the Hwasong-14 launch showed Kim Jong-un standing beside a Hwasong-12 intermediate-range ballistic missile and transporter-erector inside a missile basing tunnel.
Finally, four factors may complicate future surveillance and detection of North Korea's ICBM force.
First, while debate continues among experts over how precisely North Korea is fueling and preparing its liquid-fueled ICBMs, released footage appears to show that the Hwasong-14 is fueled in a horizontal configuration before being moved out into the open for launch, making satellite-based detection more difficult.
Second, easily observable signals around North Korea's testing regime for the Hwasong-14 like paved launch areas may not be used once the missile is ready for operational deployment.
Third, North Korea may look to forgo the use of a separable firing table entirely once it is satisfied with the reliability of its missiles, potentially accelerating its ability to launch its road-mobile missiles from a transporter-erector-launcher configuration.
Fourth, as North Korea constructs additional ICBMs, the difficulty of tracking and surveillance will grow as well. Combined with the above difficulties, a larger ICBM force will degrade the United States' ability to anticipate and preemptively destroy all of North Korea's ICBMs in wartime.
Ultimately, even if the United States has been able to anticipate and observe preparatory activity for both ICBM launches out of North Korea to date, Pyongyang may soon demonstrate growing sophistication in its ability to streamline deployment procedures for its nascent ICBM program, making confident preemption a considerably more difficult task.
While a North Korean ICBM "surprise attack" capability might not be here just yet, it may not be far off. Following the first test of the Hwasong-14, the U.S. intelligence community has revised its timeline for North Korea acquiring a reliable and operational ICBM up by two years. The above considerations will not doubt be central for North Korea as it looks to ready the Hwasong-14 — and potential future ICBMs — for deployment.