Who Is Taro Kono, Japan's New Foreign Minister?
Japan's new top diplomat inherits a complex portfolio.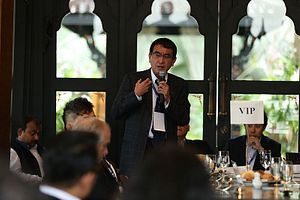 In the lead up to the August Cabinet reshuffle, the elephant in the room was where Prime Minister Shinzo Abe would position Foreign Minister Fumio Kishida – a potential rival, but one whose support Abe desperately needed as he saw his approval ratings experience an extended downward spiral on the heels of multiple scandals. When the dust settled, Kishida was appointed the LDP's Policy Research Council chairperson, a post which sets him up well enough for future leadership opportunities.
Kishida was known to be a more dovish figure in the ruling Liberal Democratic Party (LDP), but what do we know about his successor, Taro Kono?
If the Kono name sounds familiar, the reader likely heard of it in the context of the Kono Statement – a statement made by Taro Kono's father, Yohei Kono, in 1993, in which the then-Chief Cabinet Secretary stated: "The Government of Japan would like to take this opportunity once again to extend its sincere apologies and remorse to all those, irrespective of place of origin, who suffered immeasurable pain and incurable physical and psychological wounds as comfort women."
Taro Kono was first elected to the Lower House in 1996, when he was 33, and kept his seat for seven consecutive terms. Though undeniably a political blueblood, he has already made a name for himself, independent of his father. Outspoken and liberal, he supports opening up Japan to blue-collar foreign workers, legalizing dual citizenship, and allowing couples to keep their surnames after marriage. Most notably, he opposes nuclear restarts and construction of nuclear reactors.
Spending time in Washington, pursuing his education at Georgetown University, he is a popular choice among U.S. policymaking circles. His appointment was also cautiously welcomed by China and South Korea, who consider him a friendly face. However, if Chinese and South Korean politicians expect a Yohei Kono-like figure in Taro Kono, they will be disappointed.
In his own words, Taro Kono remarked at his first regular news conference: "If [China and South Korea] are happy because the son of Yohei Kono has been appointed as foreign minister, I should probably thank my father. But at the same time, I want to build a good international reputation by being myself, or Foreign Minister Kono Taro."
Furthermore, the domestic and international situation has changed dramatically since 1993.
Domestically, the Kono Statement was feasible because it was the first of its kind – before "apology fatigue" set in in Japan. Though there are legitimate concerns about how the deal was pushed through on the South Korean side – due to the ills of the Park Geun-hye administration – the Japanese side had negotiated it in good faith. As the Japanese public listens to South Korean officials speculate about renegotiating the "final and irreversible" 2015 deal, it is understandable that they may feel like they are being reneged on. Taro Kono's remark that the 2015 agreement "should be carried out steadily" means he is not interested in renegotiation.
Internationally, China is a strategic rival in a way that may have been unimaginable in the early 1990s. To take just one illustrative example, in 1993, Japan's total gross aid to China (including Official Development Aid and Other Official Flows) was $2.8 billion. In 2015, that number was $197 million. Yohei Kono was operating in a different international context where China was seen as a country that Japan could help develop – and that helping would be in Japan's own economic interest.
Of course, as any good foreign minister would want to, Taro Kono will work to improve relations with Japan's closest neighbors – but neighbors should not project their wishes on to him. As he stated, "I want to deepen our friendly relations [with China and South Korea]. I hope to conduct discussions on various issues in a future-oriented manner." In other words, Taro Kono, as any good foreign minister – be they Japanese, Chinese, or South Korean – should want, wants to focus on the practical matters at hand – not on reopening issues of history.
Japan's interests are not the same as China's – they're not even the same as South Korea's, as Japan and South Korea have diverging threat perceptions of North Korea. Chinese and South Korean policymakers should be prepared to deal with a minister who will push hard for Japanese interests in an increasingly unstable and dangerous world.
His international debut was at Manila in early August, when he attended and held meetings on the sideline of the ASEAN Regional Forum (ARF), amidst heightened tension on the Korean peninsula and in the South China Sea.