Australia Just Commissioned Its Deadliest Warship
The Royal Australian Navy has commissioned the lead ship of a new class of air warfare destroyers.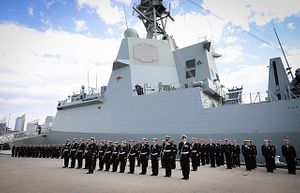 The first-of-class air warfare destroyer HMAS Hobart was formally inducted into the Royal Australian Navy (RAN) in a ceremony at Fleet Base East in Sydney on September 23, the service reports.
The induction ceremony was attended by the Prime Minister of Australia, Malcom Turnbull, who emphasized the need for a modern and well-equipped Australian Defence Force (ADF). "The commissioning of HMAS Hobart provides clear evidence of our determination to keep Australians safe and ensure we are ready and able to meet the challenges that come our way in the years ahead," Turnbull said.
The new destroyer is the most complex and capable warship ever to be operated by the RAN.  "Her sensors and weapons are leading edge and she is capable of conducting the full span of maritime security operations," the HMAS Hobart's commanding officer, Captain John Stavridis said. "However, without the 185 men and women who serve in her, she is just another ship alongside," he added.
The new 7,000-ton Hobart-class is based on the Navantia-designed Álvaro de Bazán-class frigate (aka F-100) currently in service with the Spanish Navy. The new warships are "multi-purpose weapons platforms that can be used for anti-surface and anti-submarine warfare operations, as well as gunfire support roles, next to the defending naval task forces from aircraft and missile attacks," I explained elsewhere. The warship will also be capable of carrying a helicopter. The Hobart-class is Australia's first surface warship to be built around the Aegis combat system, as I noted back in March:
Each ship will be equipped with the AN/SPY-1, an advanced, automatic detect and track, multi-function phased-array radar system, which will be paired with the MK 41 Vertical Launching System, capable of firing Raytheon's Standard Missiles (SM) of all variants as well as the RIM-162 Evolved Sea Sparrow Missile. The SPY-1 is the heart of the Aegis combat system.
However, the Hobart-class program has encountered repeated delays over the last years, which has driven up the ships' price tags. Total procurement costs are estimated at over $8 billion, which makes it Australia's most expensive weapons program to date.  One of the principal reasons for the rising costs are required upgrades to the ship's hardware following commissioning.
The second and third ship of the class, the HMAS Brisbane and HMAS Sydney, are expected to be delivered in September 2018 and March 2020.