India Delays Induction Date of Advanced Attack Submarine
The lead boat of the Indian Navy's new class of attack submarines will likely be commissioned by November-December.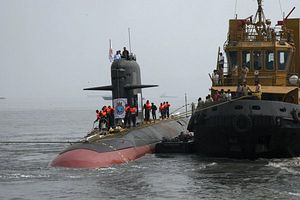 The induction of the first Scorpene-class (Kalvari-class) diesel-electric attack submarine, INS Kalvari, is expected to occur in November or December of this year, a senior Indian naval official told local media this week.  
"The Kalvari submarine has already been in the sea for sometime. Some 110 days of sea trials have been completed and more pre-commissioning sea trials are going on. We are expecting it to be commissioned by November-December this year, Indian Navy Vice Admiral Girish Luthra said on September 26.
Indian naval officials earlier this year stated that the new submarine will be commissioned in August or September 2017. Overall, the program — known as Project 75 — has now been delayed by over four years.
Already in 2005, French shipbuilder Direction des Constructions Navales Services (DCNS) was awarded a $4.16 billion contract to build six diesel electric attack submarines for the Indian Navy in cooperation with India's prime ship maker, Mumbai-based Mazagon Dock Limited.
The INS Kalvari's sea-trials included the test firing of a German SeaHake torpedo and the launch of a French-made Exocet SM39, a sea-skimming, subsonic, solid-fueled anti-ship missile with an approximate operational range of 50-70 kilometers.
The INS Kalvari is equipped with six 533-millimeter torpedo tubes for launching anti-ship torpedoes, anti-ship missiles, and sea mines. However, the Indian Navy has still not procured heavy-weight torpedoes for the submarine. In June 2016, the Indian government cancelled an order of Black Shark heavyweight torpedos, built by Whitehead Alenia Systemi Subacquei (WASS), a subsidiary of Italian arms manufacturer Finmeccanica due to corruption allegations.
"The Black Shark torpedo was specifically purchased for the Indian Navy's future fleet of six Scorpene-class (Kalvari-class) diesel-electric attack submarines," I reported elsewhere. "A second batch of 49 Black Shark torpedoes was also to be installed aboard India's domestically developed and built Arihant-class of nuclear-powered ballistic missile submarines."
While there has been some discussion over reviving the Black Shark deal, it is more likely that the Navy will opt for German-made SeaHake heavyweight torpedo or French F21 Artemis torpedoes instead.
The Kalvari-class will likely not be equipped with an air-independent propulsion (AIP) system. However, an indigenous AIP system could be added at a later stage. Vice Admiral Girish Luthra specifically mentioned the push for more Indian-made hardware in future boats. "The Indian Navy is keen on increasing indigenous components in ship building activity. We have also increased the indigenous components in submarines as well. The components' share needs to be increased in weapons and sensors." As I reported previously, India intends to build six additional diesel-electric subs in the near future:
[T]he Indian Navy has recently issued a request-for-information to six foreign manufacturers for a new $8 billion contract to build six submarines with AIP technology (…) The shortlist of manufacturers also includes DCNS; however, the company is unlikely to be selected following an embarrassing data leak (See: "India Drops Plans to Add 3 More French Stealth Attack Submarines").
This week's announcement about the Kalvari's delayed induction date appears to confirm that the second Kalvari-class diesel-electric attack submarine, christened Khanderi, which commenced sea trials in July, will not be commissioned in 2017 as originally planned. As of now, the other four attack subs are still slated for delivery beginning in 2020 at an interval of nine months.