Kim Jong-un's Crazy Summer: A Litmus Test for Japan
North Korea's active summer poses a host of challenges to Japan's defense posture.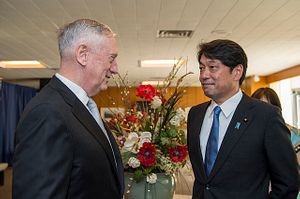 The summer of 2017, especially August, has been an eventful season for Japan. With the backdrop of escalating regional tensions on the Korean Peninsula in addition to the PLA's 90th anniversary celebrations underscoring China's massive military modernization, Tokyo's defense establishment has a number of serious concerns to manage.
North Korea's latest ballistic missile flying over Cape Erimo and Oshima Peninsula (Hokkaido) on August 29 is a game-changer. Several other important developments took shape in August: Japan's new defense minister, Itsunori Onodera, took charge on August 3 after months of controversy which had diluted public confidence and culminated in the resignation of the country's top defense leadership; publication of the annual defense white paper on August 8 with the backdrop of "strong concerns" sparked by "a new level" of threat from North Korean ballistic missiles and "intimidating activities in the East and South China Seas" driven by Chinese maritime expansion; manifestation of North Korean threats vis-à-vis Guam and the deployment of PAC-3 missiles to four bases in the west including in Kochi (Kochi prefecture), Izumo (Shimane prefecture), Kaitaichi (Hiroshima prefecture), and Matsuyama (Ehime Prefecture) on August 12; the hosting of the U.S.-Japan Security Consultative Committee meeting (Japan-U.S. 2+2) after a hiatus of two years on August 17; defense ministry seeking a $48.2 billion defense budget for fiscal 2018, representing a 2.5 percent increase year-on-year; and the short-range missile launch by Pyongyang on August 26 following the anniversary of Songun Chongch'i or military-first policy initiated by North Korean leader Kim Jong-il.
While U.S. extended deterrence and "unwavering" commitment to "defend Japan through the full range of U.S. military capabilities, both nuclear and conventional" constitutes the mainstay of Japanese defense, U.S. President Donald Trump's foggy Asia policy has made Tokyo anxious regarding the depth of U.S. commitment to the region.
Pressure on Japan to shoulder more responsibilities within the alliance framework to maintain strategic stability in Northeast Asia is mounting. Debate on asymmetrical burden sharing within the alliance framework has long been an enduring issue since the Cold War era. In the runup to the U.S. election, the Trump campaign perceived the alliance with Japan as costly and one-sided despite Tokyo reportedly sharing 48.3 per cent of the costs involved. Former Japanese Defense Minister Tomomi Inada argued that the debate should be centered on shared security capabilities rather than financial burdens. Thus the latest Japan-U.S. 2+2 underscored the significance of fast-tracking implementation of the 2015 Revised Guidelines for Bilateral Defense Cooperation and augmenting Tokyo's defense capabilities.
Based on the premise of an "increasingly severe security environment," Japanese Prime Minister Shinzo Abe urged a detailed review of the National Defense Program Guidelines (NDPG) with specific reference to missile defense, defending the southwestern region, outer space and cyber security. The defense ministry is reportedly seeking a $48.2 billion defense budget for fiscal 2018 essentially to cover the expenses related to the introduction of Aegis Ashore defense system, procurement of SM-3 Block IIA missile interceptor for Aegis ships, and developing improved radar capability aimed at ballistic missile detection and tracking. The MSDF at present operates four SM-3 missile-equipped Aegis ships. Under the existing two-tier missile defense system, the Aegis destroyers equipped with SM-3 interceptors are responsible for stopping missiles in the outer atmosphere. In the second layer, the PAC-3 surface-to-air guided interceptors come to play. Japan is looking at acquiring PAC-3 MSE.
Japan has been weighing its options, including THAAD and Aegis Ashore, aimed at strengthening missile defense. Earlier in January, former defense minister Inada visited the Andersen Air Force Base in Guam for inspecting the THAAD system. However, Japan has moved towards Aegis Ashore produced by Lockheed Martin primarily for two reasons: broader coverage scope implying fewer units required and price. With regard to Aegis Ashore, Japan has initiated discussion with the United States in order to guarantee "seamless alliance responses across a full spectrum of situations." Aegis Ashore is likely to provide Japan with a third tier of defense.
As Pyongyang continues with its provocative actions with the latest reports indicating development of an SLBM with a solid fuel engine, Japan in cooperation with the international community, especially with South Korea and the United States, is vociferously arguing in favor of strengthening economic sanctions. While UNSCR 2371 is expected to deprive the Kim Jong-un regime of $1 billion per year of hard currency, Japan is aiming for further strengthening the grip of sanctions by banning of oil exports. Besides, Japan has reportedly imposed unilateral sanctions against 72 organizations and 81 individuals related to North Korea. It is important to note that Japan's challenge vis-à-vis North Korea is not limited to Pyongyang's nuclear and missile development program, but also encompasses the decades-old abduction issue, which in July 2014 led Tokyo to ease some economic sanctions against North Korea, following its pledge to establish a special committee for investigating the kidnapping of Japanese nationals in the 1970s and 1980s. However, Tokyo failed to make any headway as Pyongyang did not deliver on its promises.
Earlier this year, Abe argued for easing Japan's ceiling on defense spending,1 percent of GDP. The message has subsequently been reiterated by Onodera when he articulated that, as he understood it, the "1 percent ceiling no longer exists. The basic principle is developing the necessary capabilities, so I do not believe that there should be a predetermined budget size." While defense outlays dropped following 2002 peak, it experienced northward movement since Abe assumed power.
At a time when the Abe administration is plagued with a series of corruption scandals, he chose wisely to entrust the responsibility of national security policy to Onodera in the recent cabinet reshuffle. Utilizing the escalating threat perception from the "increasingly severe security environment" and Onodera's standing as a defense expert, Abe can further guide Japan in the path of a "normal" nation if he can effectively manage public support. Onodera formerly served as defense minister from 2012-2014 and subsequently led the Liberal Democratic Party's (LDP) research commission on security. With regard to augmenting the ballistic missile defense capability, LDP under Onodera's leadership studied the prospect of introducing new assets with the intention of bolstering the ballistic missile defense capability, the possibility of having individual capability to counterattack the enemy bases, and the ways to react to ballistic missiles landing in Japanese EEZ. He has argued in favor of developing strike capability vis-à-vis enemy bases for self-defense.
North Korean commentaries have sharply criticized the Japanese approach. It has been argued that Tokyo has "gone beyond the red line" in weighing the possibilities of acquiring strike capabilities vis-à-vis the North Korean bases. While Pyongyang's nuclear and missile development program is used as a pretext to revive Japanese militarism, infiltrate the Korean peninsula, and realize its old ambition of a Greater East Asia Co-prosperity Sphere, it's is also utilized by Abe to divert domestic public attention from the unfolding scandals concerning corruption and misuse of power. Another commentary, at the Rodong Shimbun, underscored that "hyping" the North as a threat is a pretext to persuade the electorate to accept constitutional revision and argues that Japanese objectives to "hurt" the regime will make it "face more miserable fate than its master," namely the United States.
The decision to bring in Onodera as the defense minister at this critical juncture is not only aimed at restoring credibility and undoing the damage inflicted by Inada's lack of understanding on security matters, but also utilize Onodera's position of strength as a defense specialist and infuse momentum in pursuing the larger ambition of Target 2020 as valuable time and public trust is slipping away for revising the constitution. Onodera shares some of Abe's conservative agenda and has been affiliated to the right-wing Nippon Kaigi advocating constitutional revision.
Japan is at crossroads and is navigating perhaps the most critical phase in post-war security policy. An irrational Pyongyang with increasing technological sophistication, an assertive China altering the regional balance of power, ambiguity in Trump's Asia policy are making Abe anxious and weigh Japan's security options carefully. Japan's contested sovereignty claims with all its neighbors, a few of whom are nuclear powers with highly trained military and a sizable defense budget, has intensified threat perception and created space for the normalist school of thought.
As the destabilizing variables become more "tangible and acute" for Japanese national security, Abe has unfolded tectonic shifts in its post-war security policy: enabling limited exercise of collective self-defence, escalation in defence expenditure, reorganisation of security structures including establishment of institutions such as the Acquisition, Technology and Logistics Agency (ATLA), gearing up the R&D for achieving technological superiority and promoting security cooperation with other nations. Abe is guided solely by national security interest which is making him revisit a critical question: Whether the peace clause of the post-war constitution can effectively manage the grave and imminent threats surrounding Japan.
Japan's government has started reorienting its post-war security policy despite fierce domestic debate exposing the fault lines between the pacifist and the revisionist schools of thought. As Japan is bolstering deterrence, these developments in turn makes its East Asian neighbors anxious as the region struggles with the toxic history, intensified nationalism, and escalated tensions around fiercely contested geopolitical hotspots. As of now, Japan's best option is to further bolster its alliance with the United States on one hand and boost its individual defense capabilities on the other while managing public sentiments and gradually broadening the constitutional and legal scope of the pacifist constitution. As the U.S. expects Japan to assume greater responsibilities, a key challenge before Abe is to define in unambiguous terms the scope and limits of his vision of Japan as a proactive contributor to peace – basically, maintaining the delicate balance between sharing greater burden in ensuring East Asian security as part of the long-standing alliance with the United States, on one hand, and factoring in regional sensitivities as well as its own deeply fractured domestic constituencies, on the other.
Titli Basu is an associate fellow at the Institute for Defense Studies and Analyses (IDSA), New Delhi.